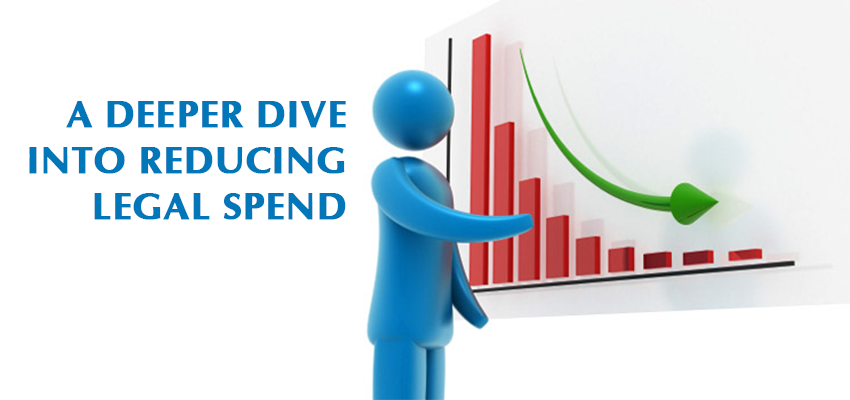 A Deeper Dive Into Reducing Legal Spend
Why do we use legal service providers? What do we get them to do? What is our relationship with the internal legal department and external law firms on our panel? Who is the go-to person in the department that we speak to when a "legal" issue arises? What do the internal audit reports say about our files? Does this drive our behaviour?
There are many questions we could and should be asking ourselves about our use of and interaction with lawyers (internal or external). Let's take a look at some of them:
What is our relationship with our internal and external lawyers and their firms?
At a recent conference about Legal Innovation and Technology that I attended in Melbourne Australia, Jay D. Hull, the Chief Innovation Partner at Davis Wright Tremaine LLP (USA), spoke about their firms' need to innovate in order to ensure retention of a large global software company as a future client. The people at Davis Wright Tremaine realized that there were several things they could do better for their client and in a true partnership approached the client to get their recognition and buy-in for change and innovation. The outcome was a win-win for both parties.
The important lesson from this story is that the relationship between client and law firm should be a partnership. The client needs to be able to clearly articulate their business strategy and how the legal panel firms firstly fitted in to that strategy and secondly what was expected of those firms to ensure successful outcomes. For example if client A has a financial goal to reduce expenses by 10%, this means that law firms servicing client A must understand the goal and then come up with ways to assist the client to achieve this. The easiest way is for those firms to charge 10% less, but this is impractical. Another way would be for each firm to look into the type of work they are conducting for the client and perhaps also consider the level of lawyer servicing the matters. Let's say a legal panel member is handling low level work for the client (say reviewing of standard lease agreements), but they only have senior associates or partners on their staff. This means that the hourly rate being charged is not commensurate with the level of work being conducted. The options for that legal firm could be to consider hiring a junior lawyer, or suggesting to the client that this type of work is moved to a firm with the right skills and junior lawyers, or to agree a fixed fee with the client that is more fair. There could be other options for Client A – using only standard lease agreements and not allowing any variations to the agreement, hiring an in-house junior counsel to handle these matters at the client offices.
Analysis that is conducted on legal work sent both to internal and external lawyers can be illuminating. Take non-disclosure agreements which are part of everyday procurement. These could be standardized and automated under the right conditions and will free up internal legal resources to do higher value work. Really looking into why legal services are required will show up patterns and trends and can usually be traced back to behaviour –" we have always done it this way, so why change?". "I need to ensure that I am compliant and pass any internal audit test" "I don't feel confident in making a decision in this matter so let's gets a legal opinion" "Lawyer X understands our business and I respect her opinion" "Our claims process states that with all claims over a certain value, we need to have a legal opinion on the file"
What value-add services can your legal panel firms offer your company – training, secondees, library services. Take advantage of them and have your staff attend training that is being offered. Work with your HR department and get the legal firms in to come and train on hot topics, changes in legislation etc.
Why and how do we use law firms?
The claim or matter strategy is crucial to understand. Once you know what outcome you desire from the matter, this can be then used to determine the next steps. If the matter at hand is complex or complicated, potentially large in value, litigated and the plaintiff firm is known as an aggressive litigator, and your firms liability is marginal or a grey area, then by all means look at what a law firm may be able to offer your business. Too often we see matters handed over to external law firms that are minor, relatively straightforward or precedence in your business makes it likely that your business can be held liable exists. Just because they are litigated doesn't always mean you have to lawyer-up as well.
In 2015, an insurer settled a long running claim in favour of the plaintiff. This was settled by way of an informal settlement conference. A pretty normal everyday occurrence at an insurer. It was a great settlement outcome for the insurer. However there is a bit more to this claim that illustrates how a formulaic process can ramp up the legal spend. The claim had been litigated and Lawyer A was initially engaged to handle the matter. After a number of years, circumstances arose that meant that Lawyer A could no longer be involved and an alternate Lawyer B was instructed to negotiate a settlement. Lawyer A had provided legal opinions and quantum advices, but the insurer wanted new legal opinions and quantum advices from Lawyer B just in case the matter did not settle at the upcoming settlement conference. Probably sound methodology for thoroughness, but not really appropriate to get before the settlement conference – would have been a waste of money if the matter settled, which it did. This would have been justifiable spending if the matter had not settled and proceeded to trial.
This is very similar to a modus operandi of getting a legal opinion on each and every claim regardless of whether similar claims have been dealt with in the immediate past. Legal advices from other, but very similar, past matters are relevant and should be considered before instructing a lawyer to act. This is more important where reading and considering those advices can help determine liability
We should be asking a simple question when deciding to use legal services – are we asking the lawyer to do what is appropriate to bring this matter to a conclusion, or to be thorough and cover all bases? This should be considered in light of the claim or matter strategy that has been determined. Can this matter then be best handled by the internal legal team? Having skills and capability matrices of the internal and external legal resources will throw some light on where matters are best handled – horses for courses!
Are we enabling our law firms to treat us in a best practice manner?
Additional responsibility rests on the law firms. Are they over-servicing their clients? How can they get this right? Analysis of legal spend will allow your business to make some decisions on both quality servicing and adherence to service level agreements. Holding quarterly business review meetings with the law firms to talk about results, SLAs and outcomes will ensure better servicing and a clarity around expectations.
Restricting legal instructions so that lawyers only do the work that you cannot legally do. Use internal resources within your business to gather facts, workplace manuals and practices, identify potential witnesses, take photographs and provide paperwork. It is very expensive to have external lawyers do this. Their hourly rates are far in excess of what it will cost you. Say for instance that the strategy is to settle the matter as quickly as possible, then instructions to the law form should be expressed in a way that makes this possible. This means you may have to expressly exclude or forbid certain work to be done (such as researching case law, detailed legal opinions and expert reports). Resist attempts by your lawyers to expand the scope of the instructions unless given sound reasons or there is an unexpected change to the outcome required.
Set levels of legal spend, over which management or senior technical sign off is required. Claims staff in particular tend to work in isolation and resent "oversight" by a more experienced manager or technical manager. This will ensure that several eyes have seen the matter, discussed the merits and reviewed the legal instructions. With higher anticipated legal spend obtain a detailed legal cost estimate from the lawyers. This is commonly called events based costing and should detail expected spend at each stage of the matter. Measuring progress against an estimate will put you in control of the legal spend and having a flag to inform you when spend is likely to be exceeded. This puts you firmly in control.
How is our compliance regime shaping our behaviour?
In these times where compliance is being ramped up even further, staff want to comply and do the right thing. This can be interpreted as lawyering-up, or checking the box by using legal service providers to prove they are acting responsibly and complying with your firm's compliance standards. Sometimes the fear of a customer complaint when a customer becomes aggressive or demanding can lead staff to over rely on a lawyer's advice.
Internal audits are normally constructed to test staff's understanding and adherence to policy and procedures, and not designed to scare them into defensive behaviour or be used as a big stick to discipline. These audit results should be used to provide feedback and for training. One myth that needs to be bust is the need for separate legal advice or opinion on each matter regardless. If there is precedent in the firm and this can be relied on to form an educated strategy and outcome on a matter, then the file notes should reflect this. It is rare that policies and guidelines are so definitive and prescriptive. Common sense normally prevails in most situations.
LSG can assist in collecting data, analyzing it and providing some insights into how and why your firm uses legal services. Talk to your LSG representative for more details or contact info@lsg.com.
Brad Tait has over 30 years of Australian and international experience in the financial services sector. He possesses expert knowledge in commercial insurance, commercial claims and underwriting, credit and risk management. With a driven inner passion for delivering customer success he applies significant experience in business process design from both a systems and people perspective.
Prior to joining LSG, Brad worked with Suncorp Group as a product Manager where he managed claims of 161 NSW Government Agencies with a staff of 90. In the past he was also engaged with JLT Australia as NSW State Claims Manager.
Schedule a Demo
A personalized demo with our legal bill review team is the best way to figure out whether LSG is the right LBR outsourcing partner for your organization. Contact us to set up a demonstration where we show you how we can help you achieve cost savings with LSG's legal bill review service.
If you want to talk to us, give us a call at +1 877 566 9574.
Request a Demo
Contact