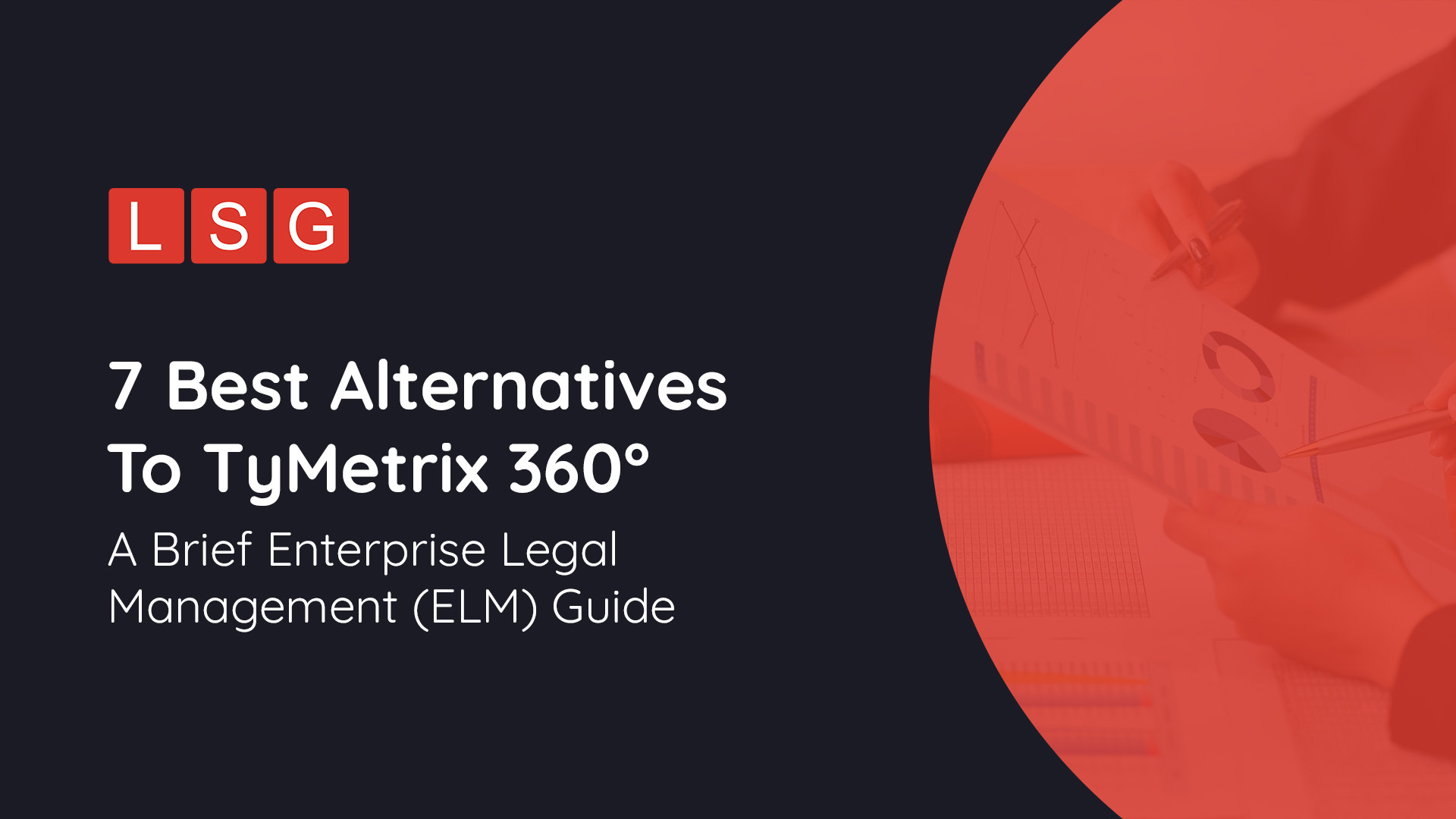 5 Best Alternatives to TyMetrix 360° ELM Software
What is ELM Software?
ELM software, or Enterprise Legal Management software, is both the management of an enterprise's legal practice and its operational strategy. This tool provides in-house legal departments with a comprehensive overview of the legal spending across their organization, including any associated documents and legal records. Well-functioning ELM software will provide automated legal bill review, based on guideline non-compliance (GNC) coding, to correct any billing compliance errors and inefficiencies. This in turn will fix any issues and revenue loss associated with overpaying for legal services and can improve a business' key performance indicators, such as combined operating ratio or average days to settle. In addition to spend management, ELM software can include components of matter management software, vendor management software, knowledge management software, eBilling software and reporting and analytics software.
Who should use ELM Software?
Any company or enterprise that has a high volume of legal spend and legal invoices can benefit from using ELM. Organizations with a high volume of non-legal vendor spend can also see improvements following the implementation of ELM. Insurance companies and third party administrators (TPAs) who handle claims for insurance companies fit these profiles. ELM software is a key category of insurance software, and even non-technology-based insurance companies should think of themselves as insurance software companies. Insurance claims adjusters should all be using some form of insurance claims processing software to fulfil capital stewardship obligations to policyholders.
Why should I use ELM Software?
First and foremost, ELM can save you time and money as an insurance claims software tool, for example. It can reduce the time required for opening new matters and processing and approving invoices. Often, this category of software can be powered by ebilling automation, which includes automation features such as pulling invoices directly from a user's email client and into the software program. Enterprise legal management software can reduce firm costs by improving time taken to manage both data analysis and operations through the automation of legal bill review and predictive data analytics. As your legal spend management procedures become more effective and efficient through the use of ELM, you will be able to cut costs. In turn, this can actualize a profitability increase. Furthermore, ELM can help maintain your fiduciary duty to shareholders as it automatically corrects billing inefficiencies and errors. Your third party legal teams should be working in your best interest, keeping legal costs low, throughputs high and outcomes in line with your target reputation.
What are the 5 best alternatives to TyMetrix 360° ELM?
Mercury ELM Software

LSG's Mercury Enterprise Learning Management software features machine learning to improve legal bill error detection and correction - this has shown to save insurance firms 6-11% on average, and in the initial years of implementation, as much as 20-30% per invoice. The Mercury ELM program also has gamification functionalities that ranks claims adjusters and provide incentives to users to encourage 100% compliance with a client's billing guidelines and in-house KPIs. Mercury (previously known as Advocator System) has saved clients over $1.2B over the past 15 years.

Onit

Onit's ELM software aims to provide a program through which users can manage the whole of their legal department's operations, from alternative fee arrangements to legal process outsourcing to legal service requests. It also offers solutions for Ethics Violations, Employee Allegations, and NDA requests.

Mitratech

Miratech offers ELM software in three distinct programs: Teamconnect, which is an end to end platform for core legal processes and operations, TAP workflow Automation, which automates repetitive manual processes, and Collaborati, which is an e-billing solution for invoice processing and building client relationships.

Brightflag

Brightflag's ELM software features A.I. invoice review and matter management. It also details budget progress and spot savings opportunities with real-time analytics. Brightflag's ELM can also enforce financial controls with timely reports.

LexisNexis

The CounselLink ELM Solution is a cloud based program from LexisNexis. It captures 100% of invoices down to line item details, implements automated bill review, and uses alternative fee arrangement support. CounselLink also offers a financing service that provides cash back on invoices for customers.
Schedule a Demo
A personalized demo with our legal bill review team is the best way to figure out whether LSG is the right LBR outsourcing partner for your organization. Contact us to set up a demonstration where we show you how we can help you achieve cost savings with LSG's legal bill review service.
If you want to talk to us, give us a call at +1 877 566 9574.
Request a Demo
Contact