7 Best Alternatives to TyMetrix 360°
TyMetrix 360°, created by Wolters Kluwer, is an e-billing and matter management solution. This solution is typically used to track legal matters from start to end and to achieve cost savings on outside counsel legal spend.
Though it is a well-known product, there are some powerful alternatives to TyMetrix that provide a better value proposition to end users across enterprise relevant metrics such as average savings, vendor guideline compliance, efficiency per adjuster and pricing. In this guide, we'll cover some of the best alternative enterprise legal management ("ELM") solutions available on the market. We'll also outline the key features you should look for in an alternative platform, such as predictive analytics, which relates to providing an organization with actionable insight when managing claims litigation.
So, without further ado, let's look at some of the best alternatives to TyMetrix 360°!
What features should TyMetrix alternatives provide?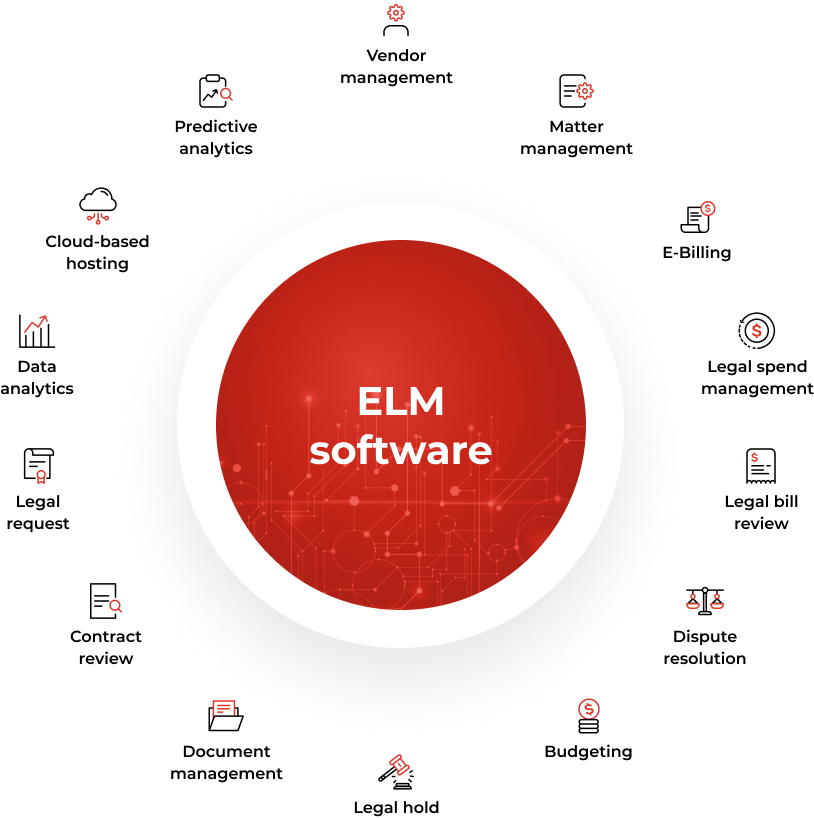 Vendor and matter management
ELM software provides in-house legal departments with a comprehensive overview of legal matters and their associated spend across the organization. This also includes the assignment, communication and tracking of external legal resources when brought in on a matter. Examples of vendors supported by leading ELM solutions include law firms, private investigators, stenographers and expert witnesses.
An ELM selected as an alternative to TyMetrix should offer a complete ecosystem for managing your legal operations. Every stakeholder involved in a legal matter should also be able to use the platform as the knowledge hub and assignment portal for all things legal, acting as a master record of the matter and the vendors working on it.
Users should be able to invite external legal resources required to participate on a matter into the platform with walled-off yet credentialed access. As vendors are onboarded, they should instantly have access to e-documents and case strategy for any assigned matters. This replaces the need to go outside of the platform to communicate, improving transparency. This also enables in-house legal departments to avoid countless emails and attachments which can be a maze to navigate.
E-billing and legal spend management
Well-functioning ELM software will provide legal bill review as a core part of controlling legal costs and enforcing outside counsel guidelines. However, the quality of bill review depends on the software. The best TyMetrix alternatives offer automatic analysis and adjustment of legal bills at the time of receipt, powered by rules-based automation and AI.
In ELM software with automated bill review, external legal resources typically submit their bills in LEDES 1998B format through an integrated e-billing portal that vendors have access to. New developments have seen a select few ELM systems start to accept multiple other formats as well, parsing structured and unstructured documents such as PDFs into data that can be auto-processed by the enterprise legal management software.
How automation works in the e-billing process is that incoming legal bills are checked against billing guidelines to identify line item errors and overbilling. These errors and non-compliant line items are then flagged for adjustment. Invoice adjustments are typically shared back with vendors through an integrated e-billing portal for acceptance or appeal, keeping everything digitized inside the ELM.
If you're working with a good provider and alternative to TyMetrix 360°, it is worth mentioning that you can typically get your outside counsel guidelines (OCGs) audited and bolstered as a part of the ELM service.
Legal bill review and dispute resolution
After the initial review of a legal invoice, the capabilities of ELM software solutions branch out even further. Some require in-house legal departments to carry out the final adjustment and to communicate changes with vendors themselves.
Other alternative ELM solutions offer an add-on service of outsourced second-layer bill review. What this means is that the ELM provider's legal team — typically trained attorneys — review and finalize legal bills on clients' behalf after the first round of automatic review. This service typically includes dispute resolution with vendors in an amicable and equitable manner.
Typical savings from a complete outsourced legal bill review process can range anywhere from 4% to 25% of total legal spend. This depends on the size of the organization and the level of strictness in which outside counsel guidelines are applied to vendors' submitted legal invoices.
For those organizations that don't require the second-layer of legal bill review, their in-house legal department can manage the final steps of the bill processing workflow internally. However, this should ideally be after automated OCG compliance checks by the ELM to avoid requiring manual line item review. Our recommendation is to at a minimum work with solutions offering automated bill review, saving valuable internal staff time.
Budgeting and rate management
Budget transparency and foresight is critical when it comes to legal spend. A good ELM software should provide a matter budget set up and erosion tracking feature. The best TyMetrix alternatives make it simple for in-house legal departments to request budgets from outside counsel who then suggest budgets from within the platform for approval by in-house counsel.
As outside counsel are onboarded, managing their rates is important. Leading ELM solutions enable rates to be managed and tracked, through the approval and rejection of new rate requests from vendors.
Document and contract management
Several leading ELM software solutions offer comprehensive document management and contract review functionality powered by artificial intelligence. The capabilities of TyMetrix alternatives can range from simple electronic storage of documents (e.g. receipts and legal records) to comprehensive analysis of legal agreements by artificial intelligence.
As highlighted in HBO's episode of "The Future of Work" when an AI-aided lawyer was pitted against a non-AI lawyer and won handedly, artificial intelligence is much more accurate at finding errors quickly. Some ELM alternatives offer integrated contract review, some do not, and some offer integrations through third-parties.
Legal hold management
Knowing when to preserve documents, communication and other pieces of information is critical when complying with litigation and court procedures. The best ELM software alternatives include legal hold management. This includes notifications automatically sent out to staff and/or partners whenever information needs to be preserved as a part of pending or active litigation.
Data analytics and reporting
When choosing a good alternative to TyMetrix 360°, it's critical to look for an ELM solution with powerful data analytics and reporting functionality. Though most ELM software available on the market provides some form of analytics, the best alternatives provide in-depth reporting of all key finance and performance metrics.
Examples of tracked metrics should include legal spend, outside counsel performance, matter staffing by outside counsel and more. Best-in-class alternatives to TyMetrix provide real-time business intelligence reports of these metrics, delivered through live links.
Additionally, some ELM solutions offer the ability to create customized drag-and-drop reports. In a custom report, users choose which metrics to include along with the frequency of when reports are generated and pushed. An example could be finance staff receiving monthly reports on legal spend metrics, specific to a single line of business or for the entire organization.
Cloud-based dedicated hosting
Though often considered a given, cloud-based hosting is an important feature for any ELM solution. Secure, dedicated hosting should always be offered. ELM platforms should be accessible through web and mobile to ensure team members and vendors don't need to download bulky software.
The vast majority of alternatives to TyMetrix 360° available on the market today are cloud-based, but it is worth mentioning the benefits of this feature regardless.
Predictive analytics and insight
Predictive analytics is not yet considered commonplace in the ELM market, but the benefits of the technology are immense. Not offered by TyMetrix, and in fact only offered by one of the leading ELM vendors, predictive analytics adds powerful depth to enterprise legal management.
There are two aspects to predictive analytics as it applies to an ELM. The first is using insight from a predictive model to select the best outside counsel on a matter, depending on case history, practice area and benchmarks maintained by the ELM. The second is more relevant for insurance companies than for corporate legal departments as it focuses on claims.
Predictive analytics applied to insurance claims enable insurers, self-insureds and TPAs working on behalf of clients to use the ELM to nurse a claim from FNOL through to closing. This is different from most TyMetrix alternatives in that claims are typically only brought into an ELM system at the point of litigation.
With predictive analytics baked into an ELM, claims can be tracked before litigation even occurs, adding a whole new dimension to the use of the platform. Using a predictive model, early claims assessment can be greatly empowered. Insights include predicting which claims are high value losses, the likelihood of litigation, and if a claimant is likely to retain counsel.
These insights coupled with other metrics help claim adjusters make better decisions. The net result is avoiding litigation whenever possible and managing litigation as effectively as possible when inevitable. Benefits include reducing days in court, ALAE and cost versus indemnity.
What are the 7 best alternatives to TyMetrix 360°?
Disclosure
LSG is the author of this article and owner of ExpenseCore Legal. As a privately-held company, we are nimble and client care remains our absolute top priority when dealing with clients. We approach you as a partner, not as a vendor, and aim to deliver demonstrable financial benefit to your bottom line with excellent ROI that beats all competition.