What is ELM software?
Enterprise legal management describes the control of in-house and outside counsel legal operations across an organization.
Enterprise legal management (ELM) software enables in-house corporate legal departments to get a complete overview of the legal spend across their organization, including the documents and records associated with that spend. Tying into this, a good enterprise legal management software will provide a legal bill review add-on service to correct billing compliance errors, fixing the issues and revenue loss associated with overpaying attorney fees for outside counsel legal services, reducing overall legal spend.
As a crucial part of legal spend management, an ELM software will typically include vendor management, matter management, claims management, document management, knowledge management, litigation management, e-billing, as well as reporting and analytics.
In the case of LSG's enterprise legal management solution, Mercury ELM software, you get all of the above with a pricing model that beats our competition — guaranteed — while saving you ~6-11% on outside counsel legal spend. A recent LSG client saved $522 million.
What is Mercury ELM software?
Mercury ELM, our enterprise legal management software, is LSG's latest development in its long history of pioneering impactful and cost-effective legal software. Using the latest machine learning capabilities, drawn from over 15 years of experience in data mining, Mercury ELM is a new, ground-up enterprise legal management software designed to offer excellent user experience along with an appealing interface for enterprises looking to save costs through legal bill review and billing guideline enforcement, as well as efficient case management, claims management, document management, vendor management, litigation management, matter management, knowledge management, compliance monitoring, vendor e-billing and beyond.
This first of its kind enterprise legal management software product will allow clients to seamlessly interact with outside counsel and share information amongst the internal legal and/or adjusting teams. Our "digital handshakes" replace emails, document attachments and other manual processes, replacing these with in-app interactivity and operability solutions that give users instant knowledge and control. In addition to replacing outdated human-manual tasks, Mercury ELM software tracks and corrects excessive outside counsel legal spend through its add-on service of legal bill review as a part of an enterprise's legal spend management strategy, playing into vendor and litigation management, or enterprise legal management.
How is Mercury ELM integrated?
Our enterprise legal management software, Mercury ELM, can be plugged into your existing accounts payable, payments and other key existing IT infrastructure. Due to this, the Mercury ELM software presents a seamless enterprise legal management platform in which to conduct all of your legal spend management, vendor management, matter management and litigation management needs, saving you considerable amounts on legal operations cost by reducing inefficiencies and unnecessary outside counsel spend, e.g. overbilled attorney fees.
Beyond this, we provide a powerful set of data analytics, reports and user dashboards, along with form building on the fly, meaning that the users are constantly informed of progress, key deadlines and milestones to be met. With a complete Microsoft Office Outlook integration, Mercury ELM software represents the best-of-breed in enterprise legal management software solutions for insurance firms, third-party administrators, banking & finance, consumer & retail, logistics, construction & engineering, transportation, technology, and other enterprises with legal spend across the United States, United Kingdom and globally.

6-11%
Spend reduction

6-7x
Average ROI
Learn how LSG saved top 10 global insurer over $522M dollars with ELM software
Please use a business email address
We worked with one of the world's largest insurance firms to integrate our legal spend management solutions, including enterprise legal management software with legal bill review and attorney fee auditing baked in. Over just a 3 year period, we improved the firm's combined operating ratio and achieved cost savings of over half a billion dollars.
Claims speed increase
Reduced days per claim by 394 days, or over a year
Legal spend savings
Reduced outside counsel legal spend by $487M dollars
Employee reduction
Reduced staff requirements by 492 full-time employees
Key benefits of LSG's Mercury ELM software
LSG has provided legal software solutions for over 15 years. In this time, we have developed several iterations of ELMs. Our latest development, Mercury ELM, is a powerful legal software solution that will modernize your enterprise legal management. Leveraging the latest in technology, the Mercury ELM software generates savings for all of our clients with an average ROI of ~6-7x.
Choosing Mercury ELM as your enterprise legal management software of choice will provide you with the capability to drive meaningful cost savings for your organization. Track outside counsel legal spend and vendor performance, analyze invoices for billing guideline compliance and fully utilize the knowledge of your organization with intelligent claims precedence insight.

Case management
Manage ongoing claims litigation and track performance by vendors and in-house counsel, as well as case strategy, budgets, notes and documents.

Legal bill review
Outsource your legal bill review to LSG's legal fee auditors. Enforce your billing guidelines and reduce outside counsel spend by ~6-11% per invoice.

Vendor management
Track your vendors' performance, billing compliance and legal spend. Leverage data analytics to inform your vendor decisions and strategy.

Claims precedence
Leverage knowledge from previous claims outcomes and legal opinions for current, ongoing claims. Reduce unecessary spend by in-house staff.
Why choose Mercury ELM software?
Business intelligence is the key to understanding performance and trends, empowering business decisions. Data can be analyzed and the results presented in a variety of ways to provide vital information that confirms previous- and drives future business decisions, while highlighting outliers and fostering curiosity. Whether at a high-level or granular, reporting informs and notifies, bringing visibility to the complex and provoking important questions. Unwanted detail can be filtered out to provide answers to specific questions. Specific reports can be quickly and easily produced. These are just some of the ways Mercury ELM software goes above and beyond for our enterprise legal clients.
This is an exciting time for enterprise legal management (ELM) software. With ever-growing pressure on legal departments to reduce spend, general counsel expect to be armed with greater budget predictability, workflow efficiency and crystal-clear visibility into legal spend. That's where enterprise legal management software comes in. Properly implemented, an enterprise legal management software solution builds a foundation for digital transformation and integrated risk management. Solutions such as LSG's Mercury ELM software includes features to manage all activities surrounding the corporate legal practice from a single dashboard. Matter management functionality provides vital tools for running an efficient legal department. If your legal department outsources work to outside law firms, then legal spend management is an absolute must-have. When engaging outside counsel, you are likely responsible for controlling costs, managing firm selection and engagement.
With Mercury ELM software, you will gain foresight into budgeting and future spend to create more predictability of department results. Implement our enterprise legal management software as a part of your legal spend management strategy, with legal bill review and audit services baked in. Get the quantitative answers you need to shape your legal operations and to inform your business decisions with data analytics and reporting through Microsoft's Power BI. Schedule a demo with our expert team to learn more about how our Mercury ELM software can drive cost savings for your organization through a multi-faceted legal spend management and enterprise legal management approach.
LSG's Mercury ELM software features

Case/matter assignment

Knowledge management
Document management

Panel and rate management

Compliance monitoring

Advanced analytics

Legal hold management
Claims management

Budgeting & case planning

Matter management
Vendor e-billing

Custom API integrations
LSG's Mercury ELM software workflow
Take a look at the workflow graphic below for a view into how LSG deploys its Mercury ELM software
for clients' enterprise legal management needs. LSG's ELM offers matter management,
litigation management, claims management, case management and beyond for enterprises.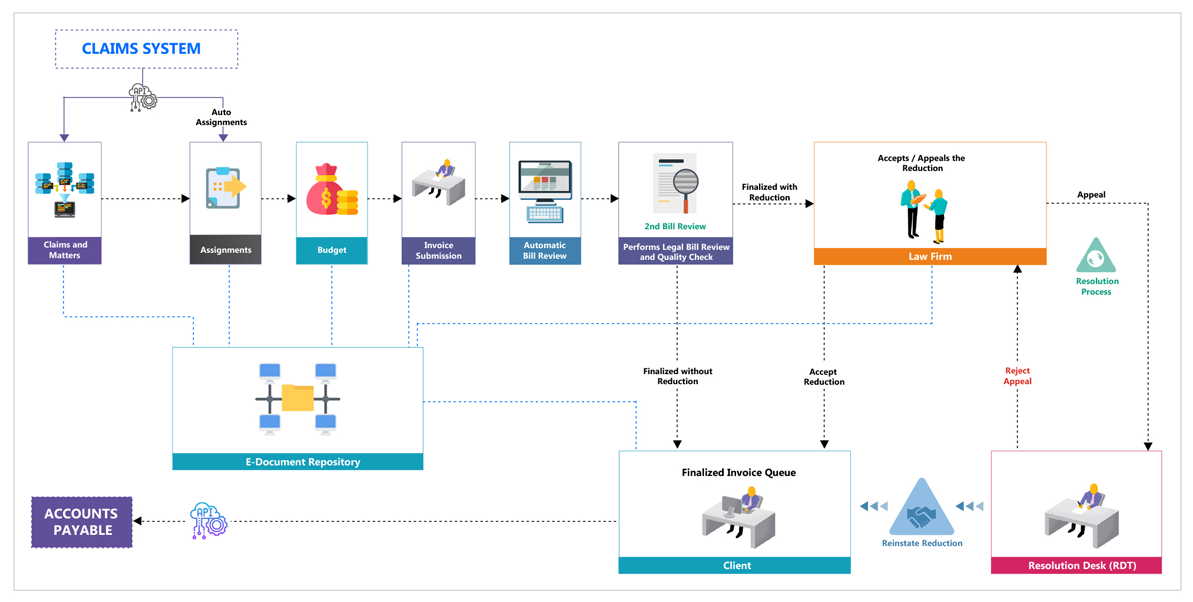 We looked around quite a bit when searching for a good fit with regard to eBilling, matter management and document management. We decided on LSG and are extremely pleased with our decision. No conversion of this nature goes off without a few... Read more

Joe Tixier
Senior Counsel,
Arthur J. Gallagher & Co
Over the course of our partnership with LSG I have been extremely pleased by their knowledge in this space, professionalism and customer service. Overall, I could not be happier with LSG and their team and would not hesitate to recommend them.

Justin Barth
Corporate Counsel,
NYCM Insurance
To further enhance our litigation management practices, we wanted a partner who could provide the level of service and tools necessary to be able to demonstrate real value to our clients. LSG has proved to be a capable firm committed to achieving... Read more

John P. LaMacchia
SVP, Field Operations
Gallagher Basset Services, Inc.
We wanted to replicate the billing guideline compliance process we use for our 'live' program of Mercury® ELM on this historic claim. This required providing the invoices to LSG and then they conducted the review using Mercury® ELM and their... Read more

Paul Sewell
Group Chief Claims Technical Officer
Brit Global Specialty
The LSG system is user friendly unlike others that I have come across. Training is not overwhelming or too time consuming. LSG is easy to navigate even if you are new to the system. Client relations staff is awesome as they are responsive and timely... Read more

Gina Lauria
Rockville Risk Management Associates

Request Demonstration
Contact us to set up a demonstration where we show you how we can help you achieve legal ops savings with our Mercury ELM software.