What is legal bill review?
Legal bill review is the practice of reviewing law firm invoices for billing errors to avoid overpaying for attorney fees, reducing your company's outside counsel legal spend.
In layman's terms, the legal bill review process mitigates the risk of companies overpaying for legal services, and is a crucial element of enterprise legal management and legal spend management. A billing error is determined to have occurred if a line item or time entry within a legal invoice is not compliant with billing guidelines agreed to between a client and its law firm, or group of law firms. In the event of billing errors being found through legal bill review carried out by legal fee auditors, then invoice totals are reduced through a correction. This consists of adjusting the affected line item and notifying the legal vendor, in turn reducing overall legal spend.
An organization's legal bill review process plays a vital role in legal spend management and reducing the cost of legal operations. LSG's team of legal fee auditors specialized in legal bill review and legal bill audit perform a comprehensive analysis of attorney fees and expenses across different jurisdictions, matter types and complexities. Our team of legal fee auditors are supported by proprietary machine learning, allowing us to complete legal fee auditing projects for clients in less than 24 hours, if required.
What does legal fee auditing cost?
Typically, legal fee auditors charge a significant percentage (~2.5%) of each invoice for annualized legal bill review programs. This gets expensive, and though legal bill audit itself saves you money over the course of a year, that's no reason to overpay. LSG offers a net savings guarantee and a price beat guarantee. This means that you will guaranteed save money on pre-existing operational costs by choosing LSG as your legal fee auditor. Whether you have an in-house legal fee auditing team or already outsource, LSG can help you generate meaningful savings, beating the performance of our legal bill audit competitors on both pricing and savings.
As an example of how LSG's legal fee auditors are deployed, we worked with a top 3 global P&C insurance firm to reduce their legal spend. Before working with LSG, the insurer was in a client relationship with one of our competitors. Switching to LSG saved the insurer an additional 2.9% on each invoice, culminating in total savings of 11.8%, an excellent result. In addition to this, however, we also priced our legal bill review more affordably, even with our improved performance over the competitor. The result for the client was ~7x ROI compared to the previous vendor's ~3x ROI, resulting in a meaningfully higher bottom line profit improvement with LSG as their legal fee auditor. LSG offers both one-off audits and annualized programs.
Calculate savings with LSG's legal bill audit service
Use our calculator to learn how much your organization could save by working with LSG for legal fee auditing. Insert your estimated amount of legal spend and you will get a rough estimate of how much LSG could save your organization throughout an annual program. We're confident in achieving excellent results at a cost-efficient price point.
Control legal spend
Reduce legal spend by 6-11% by enforcing billing guidelines
Improve vendor billing
Increase billing compliance for vendors and suppliers
Reduce review staff
Outsource to LSG and reduce in-house staff requirements
Current Spend
Savings(%)
Outcome
6% reduction in non-compliant billing
5% increased process efficiency
Total annual savings:
Request Demo
Key benefits of LSG's

legal bill review service

Legal Solutions Group, LSG, has provided legal bill review and legal bill audit services for over 15 years. Throughout this time, we have worked with companies of all shapes and sizes, with the single constant being that we consistently deliver savings of 6-11% on client organizations' outside counsel legal spend with our annual legal fee auditing programs.

We work with our clients in the pursuit of achieving legal spend management, with an in-depth analysis of law firm compliance and performance to fuel your business decisions and overall vendor management strategy. We work tirelessly in pursuit of your goals, changing your law firm vendors' behavior and gradually improving their billing. When choosing us as your legal fee auditor outsourcing partner, you will see net savings ⁠— that's an LSG legal bill review guarantee.

Improve compliance
LSG's legal bill review service changes vendor behavior and gradually improves billing practices, increasing legal vendor compliance.

Reduce legal costs
LSG's legal fee auditor team deliver accurately validated legal bills with reduced invoice totals by correcting all billing guideline non-compliance.

Analyze performance
LSG's legal bill review and audit process provides analytics on law firm performance, compliance and other key metrics to fuel decisions.

Increase transparency
LSG's legal fee auditing service drives legal spend visibility and savings, serving as a core component of reigning in and controlling spend.
How LSG implements legal bill review
LSG is one of the leading legal fee auditors servicing customers within insurance, corporate legal and beyond. To implement legal bill review and legal bill audit into an organization, LSG activates a legal spend management software and human in-house legal fee auditor hybrid. We work to control your legal spend across property & casualty, workers compensation and medical claims. Our best practices for legal bill review and legal fee auditing are based on almost two decades in the claims, matter and outside counsel vendor management industry, saving Fortune 500 clients over a billion dollars in overbilled attorney fees and spend with legal bill audit and ELM software, our flagship legal spend management solutions.
Our legal bill review and legal fee auditing service can be used to review submitted invoices on clients' pre-existing systems, or on our enterprise legal management software for ongoing litigation and/or for closed cases or matters. Not only does our legal bill review service reduce the burden of meticulously reviewing "line items" of each legal invoice, but it also enables clients to make data informed business decisions concerning litigation spend and law firm vendor performance. Paired with a versatile LEDES-compliant legal billing software, such as our Bilr e-billing solution, billing compliance can be improved to near 100% of your requirements, or service level agreements, drastically reducing law firm vendors' invoice errors.
The primary focus of LSG's legal fee auditor team is to ensure adherence to billing terms agreed between our client and their law firm vendors, with the goal of preserving relations always in mind. We offer a legal bill review dispute resolution desk that handles communication with your law firm vendors, ensuring successful outcomes. Our legal bill audit and dispute resolution pairing typically sees law firm vendors get gradually more compliant with their billing. Get in touch with us to figure out how legal bill review and legal bill audit services can help decrease your organization's legal spend while increasing transparency and compliance as a part of your legal spend management strategy. In pursuit of client success and cost control, we work with you as a partner, not as a supplier. We guarantee a high-quality legal bill review service with our team of experienced legal fee auditors that will achieve reductions in your overall legal spend throughout the legal fee auditing process. Improve your law firm vendors' billing compliance and reduce overbilled attorney fees for good with LSG's legal bill auditing.
LSG has saved global clients over $1.2B+ in spend with legal bill audit services
Please use a business email address
LSG is one of the leading legal fee auditors, having offered annualized and one-off legal bill review programs for more than 15 years. In this time, we've achieved savings of over one billion dollars ($1.2B+) for our clients through reducing their legal spend with legal bill review and legal fee auditing services, carried out by our expert team of attorneys.
50+ clients
Clients range from Coca-Cola to AT&T, Citgo and beyond
20+ specialists
We have in-house lawyers and legal fee auditors
Low avg. pricing
We offer custom pricing based on your legal spend
~32% max. savings
Maximum historical savings, typically for smaller clients
~5% min. savings
Minimum historical savings, typically for larger clients
6-11% avg. savings
Average legal spend savings for all LSG clients combined
LSG's legal fee auditor services

Cost & pricing structure
LSG's pricing structure is an industry leading % of legal spend, reducing the fee depending on total spend. Unlike competitors, our legal fee auditing also offers a price beat and savings guarantee.
In-depth analytics & reporting
LSG's legal bill auditing process includes in-depth analytics and reporting on law firm performance and spend, giving you insight to fuel decisions within law firm vendor and legal spend management.

Plug & play
LSG's legal bill review setup and complete implementation is typically done within a few weeks. Our legal bill audit service can plug into your existing ELM or other legal spend management software.

Flexibility & interoperability
LSG integrates with your claims or RIMIS to ensure no re-keying of data, kickstarting the legal bill review and legal fee auditing process. We can also feed approved e-bills directly into AP/finance system(s).

Machine learning & automation
LSG has utilized machine learning for more than a decade to improve turn around times and error capture while minimizing the cost of operation, resulting in savings passed on directly to our clients.

Data security & results
LSG's security and quality management certificates mean that we operate with a framework of "quality first". Our legal bill review service delivers better results while offered at lower cost than competition.
LSG's legal fee auditing workflow
Take a look at the workflow graphic below for a view into how LSG deploys legal bill review in live environments within the organizations we work with. We handle the end-to-end audited legal process, from legal invoice input and review, to dispute resolution, and finally accounts payable.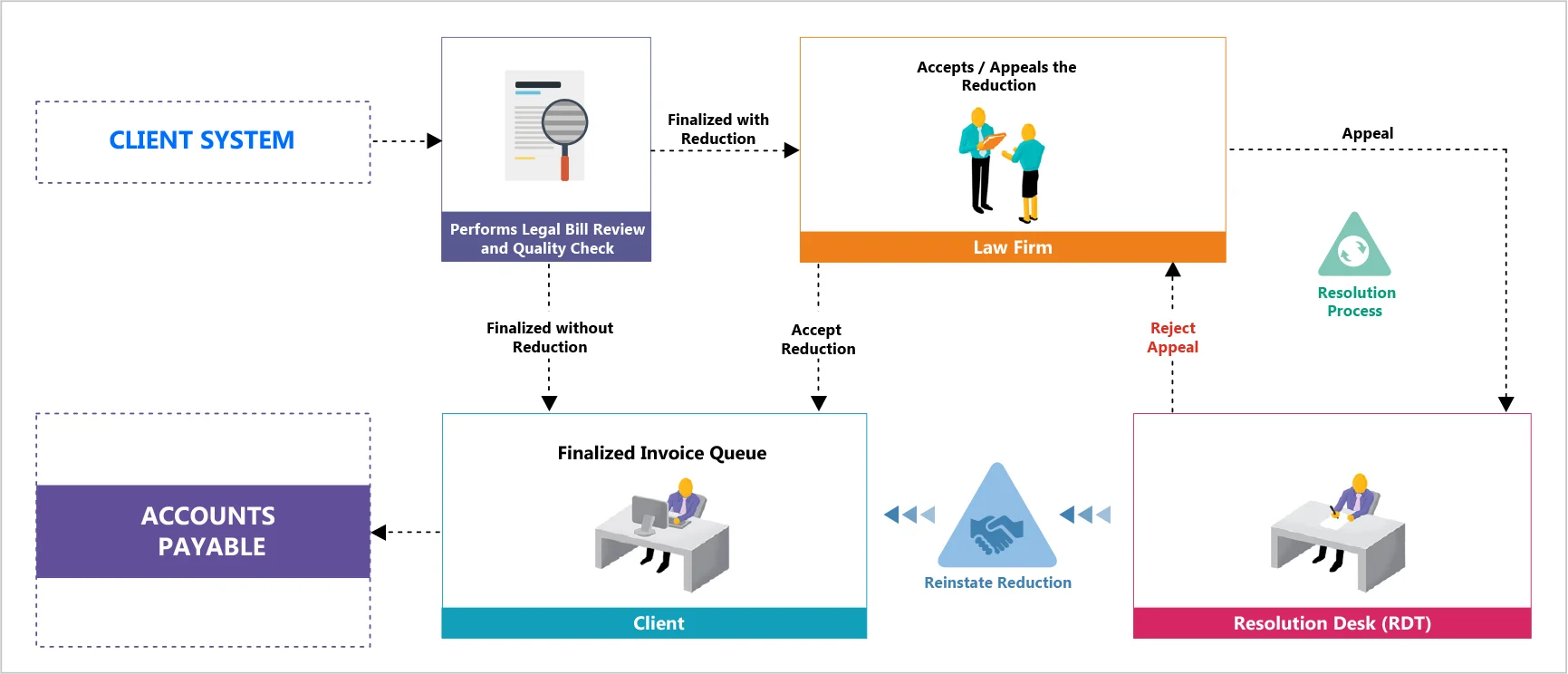 To further enhance our litigation management practices, we wanted a partner who could provide the level of service and tools necessary to be able to demonstrate real value to our clients. LSG has proved to be a capable firm committed to achieving... Read more

John P. LaMacchia
SVP, Field Operations
Gallagher Basset Services, Inc.
Over the course of our partnership with LSG I have been extremely pleased by their knowledge in this space, professionalism and customer service. Overall, I could not be happier with LSG and their team and would not hesitate to recommend them.

Justin Barth
Corporate Counsel,
NYCM Insurance
We looked around quite a bit when searching for a good fit with regard to eBilling, matter management and document management. We decided on LSG and are extremely pleased with our decision. No conversion of this nature goes off without a few... Read more

Joe Tixier
Senior Counsel,
Arthur J. Gallagher & Co
We wanted to replicate the billing guideline compliance process we use for our 'live' program of Mercury® ELM on this historic claim. This required providing the invoices to LSG and then they conducted the review using Mercury® ELM and their... Read more

Paul Sewell
Group Chief Claims Technical Officer
Brit Global Specialty
The LSG system is user friendly unlike others that I have come across. Training is not overwhelming or too time consuming. LSG is easy to navigate even if you are new to the system. Client relations staff is awesome as they are responsive and timely... Read more

Gina Lauria
Rockville Risk Management Associates

Request Demonstration
Contact us to set up a demonstration where we show you how we can help you achieve 6-11% in savings with our legal fee auditing service.