What is Legal Bill Review?
Legal bill review (LBR) is the practice of reviewing legal spend, such as law firm invoices, to avoid billing errors. In layman's terms, this process mitigates the risk of companies overpaying for legal services, and is a crucial element of enterprise legal management and cost containment. An error is determined to have occurred if a line item within a legal invoice is not compliant with the billing guidelines agreed to between a company and its law firm, or group of law firms. In the event of billing errors being found through legal bill review, legal spend is reduced by correcting the errors and thereby reducing or removing the affected line item's cost and the associated invoice total.
An organization's legal bill review process plays a vital role in litigation spend management and cost containment. LSG's team of legal bill review experts and in-house lawyers perform a comprehensive analysis of legal invoices and legal bills across different jurisdictions, matter types and complexities. Our LBR team is supplemented by machine learning empowered software, allowing our team to turn around legal bills in less than 24 hours, if required.
What is the Cost of Legal Bill Review?
Typically, legal bill review outsourcing partners will charge a percentage of your legal spend. This gets expensive, and though LBR itself saves you money, that's no reason to overpay for the service. With LSG's ground-breaking pricing model, you're no longer paying with a percentage for legal bill review. Instead, you're paying per line item on a unit-based model. The greater the number of line items, the lower the unit price. On average, we can save 50% or more on the operational costs of your pre-existing legal bill review using this pricing model.
| | | | | |
| --- | --- | --- | --- | --- |
| | | | | |
| Flat, per-invoice fees | Yes | No | No | No |
| 24/7 support | Yes | Yes | - | Yes |
| Utilizes AI | Yes | Yes | - | Yes |
| Advanced reports | Yes | Yes | - | Yes |
| Pricing structure | $6 or less per invoice | % of spend, e.g. 1-2% | % of spend, e.g. 1-2% | % of spend, e.g. 1-2% |
| Savings guarantee | If there's no NET savings, LSG's fee is waived | - | Yes | - |
How does LSG implement Legal Bill Review?
To implement legal bill review and its best practices into an organization, LSG activates a software and human legal bill review team hybrid. We work to control your legal spend across property & casualty (P&C), workers compensation (WC), and medical claims. Our best practices for legal bill review are based on almost two decades in the enterprise legal management industry, saving Fortune 500 clients and beyond over half a billion dollars on invoices with our LBR and ELM services.
Our legal bill review service can be used to review submitted invoices on clients' pre-existing systems or on our Mercury Enterprise Legal Management (ELM) Software for ongoing litigation and/or for closed cases or matters. Not only does our legal bill review service reduce the burden of meticulously reviewing "line items" of the legal invoice, but it also enables the client to take informed business decisions concerning litigation spend and supplier performance. Paired with a versatile LEDES-compliant legal billing software, such as Bilr, billing compliance can be improved to near 100% of your requirements, or service level agreements (SLAs).
The primary focus of the LSG LBR team is to ensure adherence to billing terms agreed between the client and suppliers, with the goal of preserving good relations always in mind. Get in touch with us to figure out how legal bill review can help decrease your organization's legal spend while increasing transparency and billing compliance. We work with you as a partner, not as a supplier, and we guarantee a high-quality legal bill review service that will make an impact on your legal spend.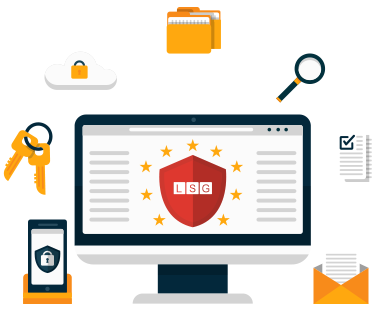 The Legal Bill Review Whitepaper
Find out if legal bill review is right for you by reading our LBR whitepaper, outlining considerations before deciding on a legal bill review outsourcing partner such as LSG.
Get Whitepaper >
Key Features of Legal Bill Review:
LSG's legal bill review service improves invoice compliance against the client's service level agreement (SLA) and billing guidelines, creating cost savings and lowering legal spend.
LSG's LBR team delivers accurately validated legal bills by correcting mathematical data and more, such as "timekeeper rate", "duplicates", "expense caps", "approval requirements", etc.
LSG provides analytics reports on law firm performance, guideline non-compliance, activity and expense bill analysis, and more throughout the process of its legal bill review implementation.
Benefits of Legal Bill Review
Cost and Pricing Structure

LSG's legal bill review service will save you at least 50% on your current bill review costs. Our pricing structure does not have to depend on the value of legal spend, unlike our competitors. We price this service as a flat cost or per invoice amount. The net effect is a significant operating costs savings to the customer - want to see more? See our exact pricing relative to our competitors in the FAQs below.

Quality and Results

LSG's quality management system and ISO 9001 certifications mean that we operate within a framework of "quality first". Our legal bill review service also delivers consistent results equal to or greater than that of your current service provider while offered lower cost, guaranteed.

Plug & Play

LSG's legal bill review service is delivered via a fast-track deployment model, meaning that set-up and implementation is typically completed within a few weeks. Our legal bill review service can seamlessly plug and play into your existing ELM or other matter management workflows.

Flexibility and Integration

Using API's, we integrate our LBR team with your claims or RIMIS to ensure no re-keying of data, in order to kick-start the legal bill review process. This flexible approach can also be used to feed approved eBills directly into your AP/finance system(s).

Machine Learning & Automation

LSG has built and utilized machine learning for more than a decade to drive accurate automation into the legal bill review processes. Turn around times, legal bill review accuracy and the highest levels of quality are attained and maintained. These, coupled with our SaaS technology, enable us to minimize the cost of operation, which is passed on directly to our customers.
The Workflow of LSG's Legal Bill Review Service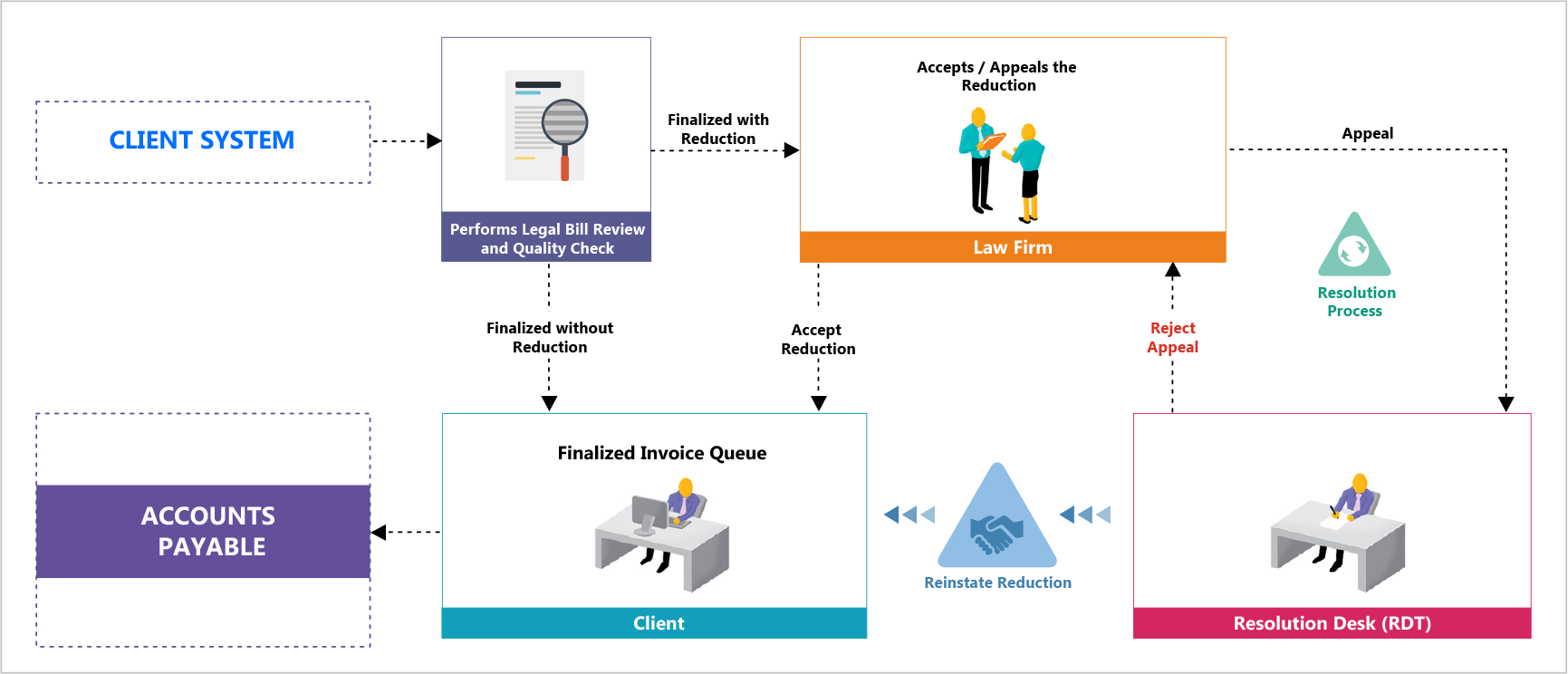 Frequently Asked Questions (FAQ):
Schedule a Demo
A personalized demo with our legal bill review team is the best way to figure out whether LSG is the right LBR outsourcing partner for your organization. Contact us to set up a demonstration where we show you how we can help you achieve cost savings with LSG's legal bill review service.
If you want to talk to us, give us a call at +1 877 566 9574.
Request a Demo
Contact