Enforce billing guidelines with legal bill review
Take control of law firm vendors and outside counsel cost, with incoming legal invoices reviewed for compliance to reduce legal spend by 6-11% avg. yearly. Our expert attorneys, with avg. post qualification experience of 10 years each, go through every line item by hand, ensuring a high quality of legal bill review.
Compare law firms' performance against state and national benchmarks, maintained by LSG using data from countless litigation matters combined. Track and monitor outside counsel's financial and other key metrics through live, drill-down data analytics reports that can be accessed from any device.
LSG's legal fee auditors are supported by machine learning, flagging any instances of non-compliance, mathematical errors and other issues to be fixed through the second-layer human review stage of the legal bill review process, before handing the invoice back to the law firms for approval or appeal.
To date, LSG has saved its clients over $1.2 billion dollars combined through legal bill review services. Both annual legal bill review and one-off legal bill audit programs are available. Any program can be delivered through either our ELM platform, manually or through your existing system(s) if applicable.
Trained attorney reviewers

Real-time budget tracking

Billing guideline auditing

Live data analytics reports

Annual legal bill review

One-off legal bill audit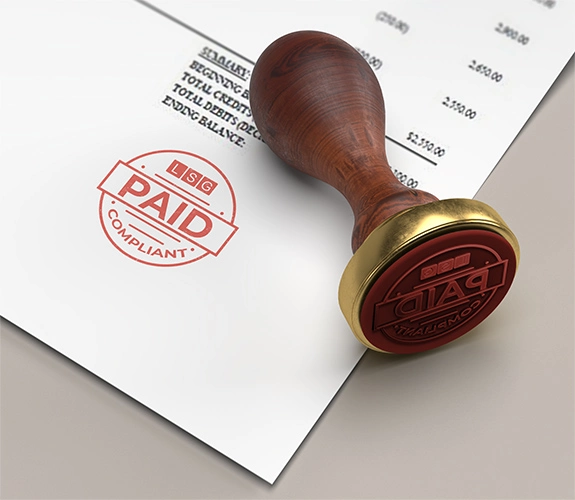 Automate invoice review
Streamline legal bill review by letting LSG's team of qualified attorneys analyze incoming invoices for compliance to billing guidelines.
Have finalized invoices submitted directly into AP system for payment, or sent to an approval queue first, with dispute resolution included.
Real-Time Review
Incoming legal bills are reviewed in real-time, with the full process able to be quicker than 24 hours.
Benchmarking
Law firm vendors' metrics are compiled and compared against each other and state averages.
Data Analytics
Savings, spend and compliance statistics are provided in live BI, drill-down data analytics reports.
Guideline Audit
Billing guidelines are audited against industry best practices, identifying potential additions.
Dispute Resolution
Invoice disputes are resolved equitably by LSG's staff through the dispute resolution desk.
AP Automation
Legal bills are taken from receipt to reviewed and approved, with finalized bills sent to AP via API.

Satisfied clients across the globe
LSG is easy to navigate even if you are new to the system. Client relations staff is awesome as they are responsive and timely.
We looked around quite a bit when searching for a good fit [...] we decided on LSG and are extremely pleased with our decision.
[...] we were able to take the program from the planning phase to fully functional in less than two weeks due to their efficient on-boarding.
[LSG's] system enables us to get a much clearer understanding down to transaction-level detail of our spend across the entire business.
Trusted by some of the
world's largest brands.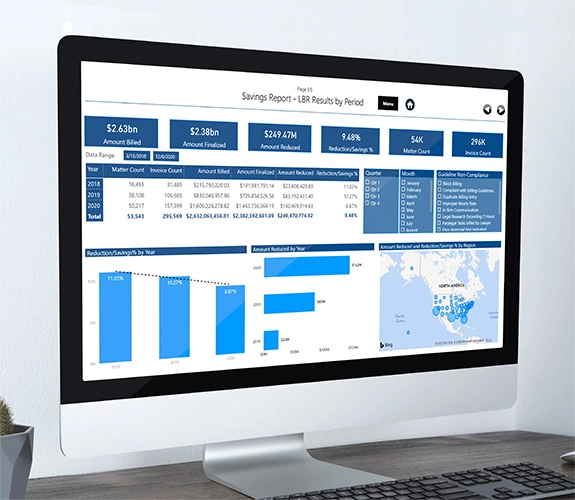 What is legal bill review?
Legal bill review is the practice of reviewing vendor law firms' submitted invoices for billing errors to avoid overpaying for attorney fees, rejecting non-compliant line items and thereby reducing your company's outside counsel legal spend.
In layman's terms, the legal bill review process mitigates the risk of overpaying for legal services and is crucial to enterprise legal management as it relates to containing outside counsel expenditure.
How do legal bill review programs work?
When reviewing a legal invoice for compliance, a billing error is determined to have occurred if a line item or time entry within the invoice is not compliant to billing guidelines agreed between a client and its law firm, or group of law firms.
In the event of billing errors being found through legal bill review carried out by LSG's 10+ year PQE legal fee auditors, then invoice totals are reduced through a correction. This consists of adjusting the affected line item and notifying the law firm, in turn reducing overall legal spend and gradually improving compliance.
This is not the end of the process, however. At the time of notification, a law firm can choose to either accept a reduction or to go through dispute resolution if they feel a reduction has been made incorrectly. This stage should be equitable, and the law firms should feel fairly treated with all incorrect reductions reverted.
In the case of LSG's programs, the end-to-end workflow of review, adjustment and dispute resolution is all handled by our team, with finalized legal invoices that are accepted by the law firms submitted into our clients' AP for payment.
The legal bill review process is vital for legal spend management and reducing the cost of legal operations. LSG's team of legal fee auditors specialized in legal bill review perform a comprehensive analysis of attorney fees and expenses across different jurisdictions, matter types and complexities.
6-11%
Average savings
$1.2B+
Historic savings
What does legal fee auditing cost?
Typically, legal fee auditors charge a significant percentage (~2.5%) of each invoice for annual legal bill review programs. This gets expensive, and though legal fee auditing in itself saves you money over the course of a year, that's no reason to overpay. We beat the price and performance of pre-existing vendors.
You will save money on pre-existing operational costs by choosing us as your legal fee auditor. Whether you have an in-house legal fee auditing team or already outsource, LSG can help you generate meaningful savings, beating the performance of our legal bill review competitors on both pricing and savings.
We offer multiple pricing models, ranging from percentage cost to flat fee and even hybrid models that include aspects of both. Our focus is on finding pricing that provides mutual benefit and clarity around legal invoice review costs.
As an example of how LSG's legal fee auditors are deployed, we worked with a top 3 global P&C insurer to reduce their legal spend. Before working with LSG, the insurer was in a client relationship with one of our main competitors.
Switching to LSG saved the insurer an additional 2.9% on each invoice, culminating in total savings of 11.8%, an excellent result. In addition to this, however, we also priced our legal bill review more affordably, even with our improved performance over their previous attorney fee audit vendor.
The result for the client was ~7x ROI compared to the previous vendor's ~3x ROI, resulting in a meaningfully higher bottom line profit improvement with LSG as their legal fee auditor on an annualized, real-time invoice review program.
Calculate savings with LSG's legal bill audit service
Use our calculator to learn how much your organization could save by working with LSG for legal bill review. Insert rough annual legal spend and get an estimate of how much LSG could save your organization. We're confident in achieving excellent results at a cost-efficient price.
Control legal spend
Reduce legal spend by 6-11% by enforcing SLA guidelines.
Improve vendor billing
Increase billing compliance for vendors and suppliers.
Reduce review staff
Outsource to LSG and reduce in-house staff requirements.
Current Spend
Savings(%)
Outcome
8% reduction in non-compliant billing
3% increased process efficiency
Total annual savings:
Request Demo
Key benefits of using LSG's

legal bill review service

Legal Solutions Group, LSG, has provided legal fee auditing for over 17 years. Throughout this time, we have worked with companies of all shapes and sizes, with the single constant being that we consistently deliver savings of 6-11% on outside counsel legal spend with our programs.

We work with our clients in the pursuit of achieving legal spend management, with an in-depth analysis of law firm compliance and performance to fuel your business decisions. When choosing us as a partner, you will see net savings ⁠— that's our legal bill review guarantee.
Improve compliance
Legal bill review changes behavior and gradually icreases law firm vendors' billing compliance.
Reduce legal costs
LSG's legal fee auditor team delivers accurately validated legal bills with overbilling removed.
Benchmark counsel
Live reports are provided that give insight into law firm performance metrics compared against peers.
Increase transparency
LSG's legal fee auditing drives visibility of legal spend and your law firm vendors' performance.
How is legal bill review implemented?
LSG is one of the leading legal fee auditors servicing insurers, third-party admins and self-insureds. To implement legal bill review into new clients, LSG activates a legal spend management software and in-house legal fee auditor hybrid. Our attorney reviewers with of 8+ years avg. PQE work to control your legal spend.
Our best practices for legal bill review and attorney fee auditing are based on 17 years in the legal and insurance industries, saving a diverse set of clients over a billion dollars in overbilled attorney fees with legal invoice review services and ELM software, our flagship legal spend management solutions.
LSG's legal bill review and legal fee auditing service can be used to analyze submitted invoices on clients' pre-existing systems, or on our enterprise legal management software for ongoing litigation and/or for closed cases or matters.
What is a one-off legal bill audit?
Our legal fee auditing programs can be delivered as annual or one-off services, meaning that we can be brought in to audit a specific set of legal bills, e.g. for an M&A project, or we can review incoming legal invoices in real-time over the course of an annual legal bill review program. Annual programs are typically delivered through our enterprise legal management tool, ExpenseCore Legal.
Beyond scope and timelines, other differences between our legal bill review and legal bill audit offerings comes down to pricing. An annual program will typically be priced lower, meaning a lesser percentage cost of total legal spend, whereas a one-off legal bill audit will come in at a slightly higher percentage cost.
If you are interested in a more sporadic yet annual program of legal bill auditing, we also offer alternatives for you. Examples of relevant companies for this type of program includes frequent acquirers, with high legal spend during M&A events. In a program such as this, attorney fee auditing would be activated as needed.
With LSG, all options are competitively priced and clients can expect savings ranging from 6-11% of total legal spend on average. Historically, we've managed to achieve as high as 32% in savings, but it depends on the size of client and on the approach that is to be applied for the legal invoice reductions.
LSG has generated over $1.2B+ dollars in value with legal bill review services
Please use a business email address
LSG is a leading legal fee auditor, having offered legal invoice review services for more than 17 years. In this time, we've achieved savings of over one billion dollars for global clients through reducing their legal spend with our legal bill review and legal bill audit services, carried out by expert reviewer attorneys.
Fortune 500s
Clients range from Coca-Cola to AT&T, Citgo and beyond
20+ specialists
We have in-house lawyers and legal fee auditors
Hybrid pricing
We offer different pricing models, including flat fee
~32% max. savings
Maximum historical savings, typically for smaller clients
~5% min. savings
Minimum historical savings, typically for larger clients
6-11% avg. savings
Average legal spend savings for all LSG clients combined
Why choose LSG's legal fee auditor team?
Not only does our legal bill review service reduce the burden of meticulously reviewing line items of each legal invoice, but it also enables clients to make data-informed business decisions concerning litigation spend and law firm performance, such as which firms to keep on the panel and refer cases to.
The primary focus of LSG's legal fee auditor team is to ensure adherence to billing terms agreed between our clients and their law firm vendors, with the goal of preserving relations always in mind. We offer a legal bill review dispute resolution desk that handles communication and resolves issues amicably and equitably with your law firm vendors, ensuring successful outcomes.
Our attorney fee auditing and dispute resolution pairing typically sees law firm vendors get gradually more compliant with their legal billing over time, but even at this stage ~4% average invoice savings can be expected from staff churn and other factors, with LBR being just as important due to the deterrence effect.
Get in touch with us to figure out how legal bill review and legal bill auditing can help decrease your organization's legal spend while increasing transparency and compliance as a part of your legal spend management strategy.
In pursuit of client success and cost control, we work with you as a partner, not as a supplier. We guarantee a high-quality legal bill review service with our team of experienced legal fee auditors that will achieve reductions in your legal spend throughout the legal fee auditing process. Improve your law firm vendors' compliance and reduce overbilled attorney fees for good with LSG as a partner.
LSG's legal fee auditing workflow
Take a look at the workflow graphic below for a view into how LSG deploys legal bill review in live environments within the organizations we work with. We handle the end-to-end audited legal process, from legal invoice input and review, to dispute resolution, and finally accounts payable.