Accurate Legal Billing Software Options and Considerations
Published by Gary R Markham on Dec 12, 2019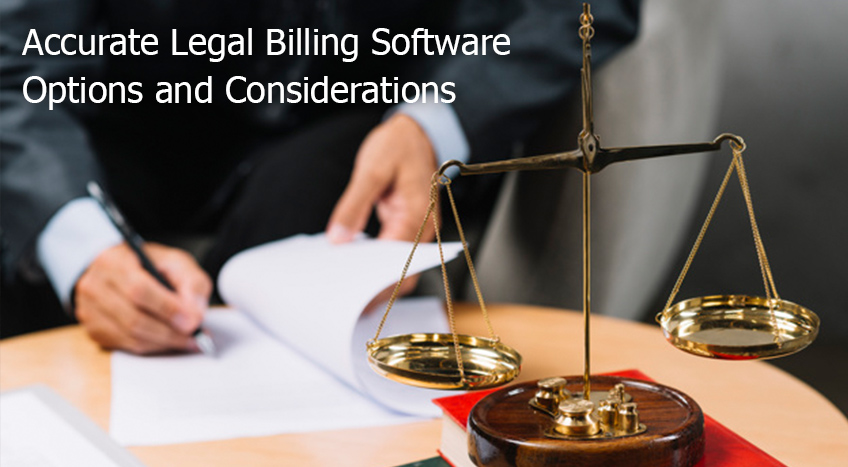 Accurate and efficient legal billing software is crucial for successful law firms.
Revenues for law firms depend on invoicing, and just like a restaurant, high quality experience and turnover efficiency is key. Without invoices, you won't get paid. Without accurate invoices you won't get paid enough.
To drive this point home, the American Bar Association's 2017 Legal Technology Survey Report relayed that legal billing software is in use by the majority of law firms: ~80% of respondents reported that their firms made time and billing software available, and ~70% percent made electronic billing software available for use.
~80% of respondents reported that their law firms made time and billing software available, and ~70% percent made electronic billing software available for use.
What the majority of the law firms still have to do is implement case management software within their legal billing software. Why? Well, case management software, which "scrubs" invoices, will earn law practices 6–11% in extra revenue and over 30% in profits. This is part of a special sauce unique to a select few software solutions that exist out there, including ours. Furthermore, not many offer SaaS, or cloud-based legal billing software, which is key to a scalable solution with easily available updates.
This article will have an overview of important points to consider when looking at legal billing options. As for legal billing software, you can go for "best of breed" or "best of suite." Best of breed solutions are solutions focused only on legal billing, whereas best of suite solutions are software products that offer billing as part of a broader case management suite.
Whether best of breed or best of suite, you want to make sure that the invoicing aspect of your software has been given adequate attention and care. What does that mean? Invoices generated by your accurate legal billing software must be easy to edit, easy to electronically share, quick to create and most important of all, compliant with the industry leading LEDES format. Natural language processing to create speech-generated invoices is a plus.
You'll also want your logo to feature prominently, whether you're creating these invoices as a law firm for your clients or whether you're a firm processing a large volume of invoices from vendors, legal or non-legal.
A final important point to consider is conversion and accounts receivable/payable ratios. You'll want to pay these invoices quickly via mobile or desktop and convert that bill into a paid invoice. That means having an easy way for clients to pay invoices, ideally with a built in payment processor, and that's why we'd recommend LawPay (full disclosure: they are a partner, but they genuinely — and arguably, objectively — do a great job).
When it comes to cloud-based legal billing software, Bilr stands out as a leading new contender, given its got the cutting edge features of a best of breed solution: cloud-based, SaaS pricing, natural language processing, LEDES compliance, LawPay payment processor integration and beautiful UI/UX. For full disclosure, Bilr is a company I founded, based on 15 years in the legal billing and claims management industry, seeing room for improvement, to put it mildly. There are other leading solutions available, including Clio and Rocket Matter that have the feature capacity of generating invoices based on time entered using time-tracking tools. Many reputable providers also include trust accounting reconciliation features, along with options to incorporate your law firm's general accounting information into your billing system. Of course each program is unique and each offers a different mix of features, so it's very important to use the invoicing tools extensively during your free trial of the software.
You'll want to make sure that your legal billing software can integrate with leading legal SaaS tools, such as QuickBooks or HazelTree for accounting. Case management is another area to consider for integration with your billing tool, LSG is a sister company to Bilr. Some legal softwares have these integrations custom made and available for any software you'd prefer within 6 weeks. Note that you should ask to see these integrations in action in order to know whether it can drive operational value for your firm. To give a personal example, Bilr helped reduce invoice processing time, via the app itself as well as its integration abilities, from 46 days to <1 day at our last client, a>50x improvement.
So, from just legal billing all the way through to a fully integrated solution there's something for you. So no matter what your firm's legal billing needs, there's a software tool available that will fit the bill (pun fully intended for Bilr!). Now that you have the lay of the land, carefully research and review your options, narrow it down to a few tools, and take them for a test drive. Choose the program that best fits into your firm's workflow, and in no time flat your law firm will be well on its way to more streamlined and efficient legal billing.
Gary Markham is a Manhattan and Miami-based technology founder, CEO, author, journalist and leader at Bilr, a legal and non-legal invoicing tool for law firms, accounting firms and any company that processes invoices on behalf of themselves or their clients. He is the nationally recognized recipient of the key to the City in Miami, and co-authored Timekeeping for Dummies. He writes regular blogs for aXpire, Bilr (an aXpire product), Resolvr (an aXpire expense allocation software product) and LSG (a standalone claims management sister company to aXpire). Furthermore, he's featured on CNBC, Bloomberg, Yahoo! News and other leading news outlets. He's authored hundreds of articles and regularly speaks at conferences regarding the intersection of law, mobile and cloud computing, and internet-based technology. He can be contacted at gm@axpire.com.