How Can Insurers Tackle Rising Claims Litigation Costs?
Published by Joakim Hjønnevåg on Dec 10, 2020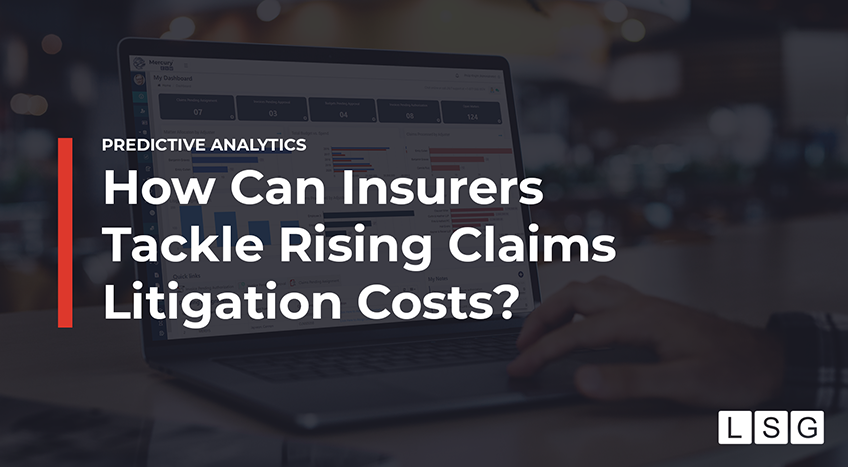 The insurance industry is no stranger to the implementation and usage of statistical data across its business initiatives. Insurers are always on the lookout for ways to enhance their efficiency and follow cost control protocols during the claims cycle. However, in claims handling and litigation management, even large insurers can experience inefficiencies.
Global insurance firms have claims adjusters from different parts of the world working at various levels of expertise and handling multiple claims concurrently, often without proper communication with all stakeholders such as panel counsel, and without insight into firm-wide claims history and precedence. Business and technology disparities in legacy systems can have adverse effects on the claims cycle and waste a great deal of time in the process.
Experts have recommended employing concerted technologies to lower claims expenses while also removing obstacles in the claims journey for all stakeholders involved. An example of a system that does this is Mercury ELM, providing a means for collaboration in a single system between claim adjusters and panel counsel, digitizing email, paper, PDF and Excel processes that typically occur during claims litigation.
For insurance firms, inefficient claims litigation can drive up expenses and make the claims cycle longer, meaning heightened legal fees without necessarily leading to improved outcomes. With claims defense costs trending upwards, insurers no longer have the luxury of brushing aside litigation expenses as consequences of business.
Claims litigation costs are burning a hole in insurers' pockets
An Insurance Research Council report found that the average bodily claim cost rose by 31% and that personal injury protection claims payments (PIP) saw a growth of 26% in the years between 2008-2017. This rise in claims cost rates has even resulted in inflation - evidence to the fact that insurers have the unenviable task of containing claims costs.
Let's look at claims litigation cost in specific. As per the aforementioned report, 52% of bodily injury claimants hired attorneys in 2017. This is in comparison to 49% in 2007 and 50% in 2012. In PIP claims, involvement of attorneys shot up to 39% in 2017 - as opposed to 32% in 2007 and 36% in 2012. The inability of insurance firms to settle claims prior to litigation may mean they need to hire defense counsel, many of whom demand fees upwards of $50,000, depending on their seniority.
For workers' compensation claims, legal expenses amount to 14% of losses. Instances where claims are made for time lost from work can cost up to three times more when attorneys are called into action.
While rising claims and litigation costs have been disconcerting for insurers, proper litigation management has been hard to implement. This has led to an increase in pressure on claims departments to produce new strategies to deal with litigation management.
According to a study by Claims and Litigation Management Alliance (CLM), 75% of insurers felt that senior management was keeping an close eye on their litigation management strategies - which hardly comes as a surprise considering litigation costs.
Over-analysis of claims by adjusters has been viewed as one of the primary hindrances to smooth litigation management. Rather than working towards quick resolutions, adjusters prefer a cautious approach with time to mull over repeated claims assessments. This leads to a loss of valuable time, and can halt settlement plans. To illustrate this point, 80% of the insurers confirmed that the majority of litigation claims are settled far deeper into the litigation process than necessary. This is likely due to a lack of consistency in claims litigation.
Applying predictive analytics to improve claims outcomes
There is rarely a shortage of litigation issues, settlement offers and court adjudications in an claim's journey. However, within this journey are crucial insights that can streamline the litigation process for claim adjusters and their insurance firms. That being said, insurers have traditionally found it difficult to capitalize on these claims litigation insights.
An ideal insurance scenario is one where insurers create a predictive model based on general claims data and claims litigation data that has been acquired over the years. This data, when combined, is goldmine for insights, helping drive decisions during settlement negotiation and litigation. How valuable would it be to know the following metrics:
The likelihood that a claim will exceed a high-cost threshold
The likelihood that a claimant will hire a lawyer
The likelihood that a lawyer will file suit
The likely ultimate cost of a settlement or judgment
Predict settlement amount and timing
Predict success of certain actions (e.g., motion for summary judgment)
Predict likelihood of success on the merits at trial
Armed with this information, claim adjusters can leverage empirical data and data-informed predictions to gauge the best course of action, ensuring that better decisions are made, improving outcomes and reducing average days in litigation.
Getting started with predictive analytics
If you'd like to learn more about how predictive analytics and/or in-house legal software could be deployed within your insurance firm, don't hesitate to reach out to us. LSG, or Legal Solutions Group, has been in the insurance technology industry, generating billions in value for its clients. One of our latest initiatives is the creation of predictive models to aid claim adjusters in their decision making.
Get in touch with us for a consultation call, without commitment, where we'll explore if your current data collection could be utilized in the creation of a predictive model. We can also look at specifically how this could be implemented within your claims and litigation management workflow to provide the right information at the right time to the correct stakeholder.