To Profit or Not to Profit –
River of Billing Data
Published by Gary R Markham on Sep 15, 2023
A leading law firm consulting and technology solutions provider, with over 25 years experience in driving value.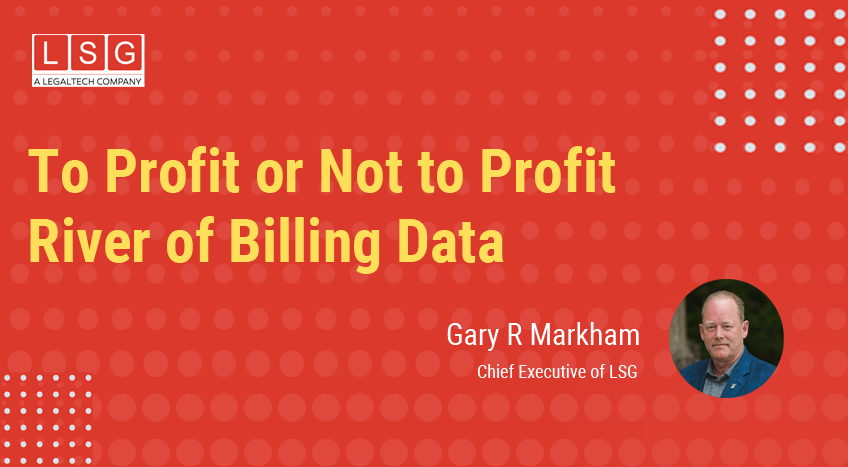 Preface
A deeper dive into the (in)ability of law practices to hit their financial and partnership revenue goals.
Recent market studies by Ernst and Young, Thomson Reuters and others, indicates some of the traits of more profitable law firms, and the underlying causation.
This article intends to delve into a number of these key practice management facets and draw out why most firms simply cannot make the migration from stagnation to higher profitability.
On average, law firms lose 6-11% of gross (targeted) revenue goals annually. If we convert this into profit margins, that's a 19-28% drop. Very painful, yet mostly avoidable.
Causation – the River of Billing Data
The main causes for lower revenue target attainment and profitability, relate to underlying cultural and historical issues surrounding the use of technology, operational management, control and attorney accountability.
To break this down, we will focus on the "follow the money" methodology.
Using the analogy of a river, this all begins with a small spring, welling up from the ground, turning into a creek, then a stream, ultimately turning into a river, before it enters an estuary and onwards to the open sea. Picture this.
The water is data. Billing data. The spring is the first instance when, where and how the attorney records a task, with time and value. The next is when, or the cadence of these records being generated.
We are now forming a creek, with other attorneys recording time and tasks differently, or at a varying cadence to their colleagues.
The stream is reached when these data are passed onto the finance/billing department.
The timeliness of those data passing to finance/billing is also critical in profitability.
Assume that the stream enters the finance/billing department, but not in a timely manner, so they rush the creation of the firm's invoices. At this point finance/billing has no choice but to submit these rushed bills/invoices to the clients.
Part of the damage to the data has already occurred. We call this, "dirty data", as there has been little if no time allowed by either the attorneys or the finance/billing department, to conduct quality and accuracy tests on the data/invoices.
Once the River of Data hits the client, its somewhat polluted. If the reader considers each law firm client as the collective estuary of data, one begins to build a view on why the receivables do not equal billables. Hence the 6-11% loss on gross revenues.
This analogy is similar to an actual river, in that in some cases, they get polluted by industry, farming, sewage and illegal dumping.
All that dirty data (water) ends up in the foreshores of the sea.
This is where the client engages a bill review specialist who identifies misgivings, errors, omissions and plain poor quality billing habits. The bills get reviewed, corrected and cuts made, which lowers the overall value.
Again, this is where a large proportion of the 6-11% of gross revenues are lost. In the sea, NOT at the spring, where the water (data) are clean. Keeping the data clean along the entire time recording and billing lifecycle requires a high degree of visibility on the process and how each attorney is conducting themselves.
Cultural change is perceived as painful
Most law firms are unable to overcome historical and cultural barriers to change, due to personalities amongst the key partners. Alongside this, are weaknesses in visibility on data in a real or near real-time basis, with respect to attainment of key goals as set out by the partnership.
Adoption of technology is also a large cause of poor practice profitability. This is not a question of what "systems" being used, but are they right for the business and are all users comfortable with their adoption and utilization.
Visibility, Control and Positive Change, towards greater Accountability
Given that we often see a lack of partner/key practice area/attorney accountability, the main causes are a lack of visibility. Without this, no new controls may be implemented.
Driving positive change requires leadership and a willingness to accept that the current situation is not operationally optimized.
Baby steps can be taken, without wholesale changes to the firm's IT infrastructure, that will help create the appropriate levels of oversight, such that billing attainment levels can be monitored and acted upon where they are lagging behind targets.
This offers managing/revenue partners or CFO's control over how they can influence attorney time recording and billing behaviors. That control enables a shift or change in old or out of date (cultural) practices that are harmful to the bottom line for the firm.
Aligned with the value of time or timeliness [of time recording and submission to finance/billing dept], we start to envision an operating model where "healthy
competition" amongst attorneys or practice area leaders, is encouraged. This is especially true if profits are shared amongst a wider group.
To Profit or Not to Profit (or hit revenue/profit targets)
All commercial businesses, legal practices or otherwise, drive towards greater profitability and revenue growth.

The choice of achieving these goals resides in all law firms. The willingness to accept and implement positive changes in behavior, is one of the main driving forces at play here.

Irrespective of how this is achieved, which is also a choice for firms; the fact remains there are options and opportunities to improve the financial health of the practice.

This requires leadership, ambition, drive and an open mind.

LSG is a leader in the field of law firm operations consulting and technology solutions. With over 25 years of experience in the field, we are experts in this specialized field.

s