The Beginner's Guide to Legal Bill Review
Published by Matthew Markham on Apr 17, 2020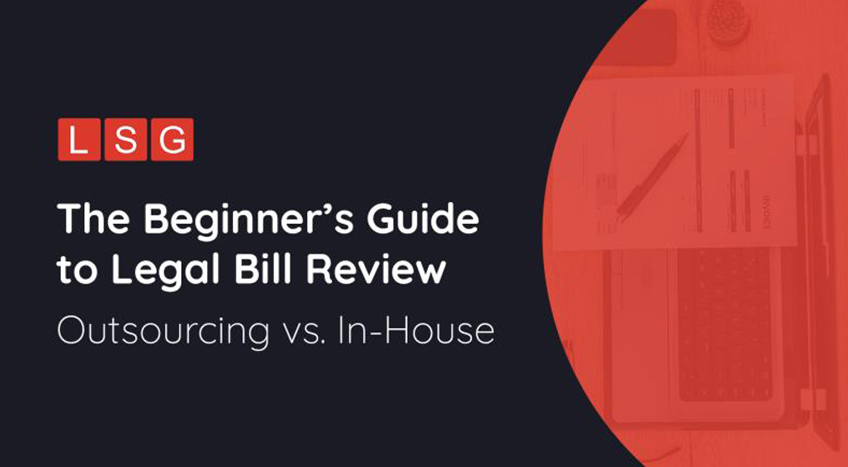 It's no surprise that many corporate legal departments are seeing a real increase in their caseloads. Many busy organizations are seeing the value of outsourcing their work to external sources.
According to Thomson Reuters when they surveyed 1,000 different organizations, it's becoming clearer that outsourcing is becoming a trend that's set to continue.
So why are so many legal professionals seeking the benefits of legal bill review outsourcing? In this article, we're going to take a look at why outsourcing can help to grow your business.
Let's start with the short answer as to why savvy professionals are outsourcing legal bill review.
Why should I outsource bill reviews? Outsourcing legal bill review to an expert can assist your company in a number of ways. It saves time for your busy legal team to concentrate on higher-value tasks, while also saving the company money and providing an opportunity for business growth. It also strengthens business relationships due to consistency.
Now we've seen the short answer as to why it's important to your business to get assistance with lengthy daily processes. In order to help us really understand this topic, let's start by looking at exactly what legal bill review is.
What is legal bill review outsourcing?
According to the study mentioned previously, we can also see that many of the companies surveyed were increasingly more focused on managing their legal spend through a number of different methods, which includes outsourced legal bill review or LBR.
It's true to say that many busy corporate legal departments are questioning whether they should outsource this function to legal bill review experts so they are able to focus on higher-value work, or whether it's best to handle it in-house. So let's take a look below at exactly what LBR software is.
What is legal bill review software?
Legal bill review, or LBR software is primarily used for reviewing law firm invoices in an electronic format. Generally, these software applications are designed to accommodate LEDES and UTBMS, which are the industry standard for law firm invoices.
As most large organizations such as insurance firms have a consistently high volume of legal invoices, legal bill review software applications can help in the process of reviewing large invoicing volumes. Usage of this technology by outsourcing partners is one of the primary reasons that many legal departments are outsourcing their legal bill review.
It's worth knowing that the LEDES standard is the most prevalent global legal invoice standard.
Now we know exactly what a bill review is, let's take a look below at some of the reasons why overstretched organizations are considering the possibility of outsourcing legal bill review.
Why do organizations outsource legal bill review?
For many organizations, legal bill review is seen as a laborious distraction from higher value tasks, but the reality of it is that LBR can save an organization meaningful revenues. Most organizations are keen to concentrate on the task of growing their company and taking time away from administrative tasks.
This can lead to the bills not being reviewed as thoroughly as they should be. It can also lead to improper enforcement of billing guidelines.
One solution is to train specialist staff to deal with legal bill review, let's take a look below on taking that route.
Should I train my own specialist staff?
The main issue with utilizing your own in-house paralegals is that it requires a large and significant training program.
Good legal bill reviewers are in high demand so it could be an issue training them up on your own companies' time and resources, as they will be at a greater risk of leaving your company to gain better-paying roles. This has the capacity to waste further time and resources on training up new staff, which could take up to six months of company time.
Another factor in training up your own in-house team is that it can be almost impossible to know how many trained bill review associates with enough expertise that you are likely to need, and in addition to this, maintaining a team of in-house staff can get expensive.
"The main issue with utilizing in-house paralegals requires a large and significant training program. "
So now we've seen some of the likely issues you might encounter training your own legal bill review team, let's take a look below at some of the powerful benefits outsourcing this work can bring.
What are the benefits of outsourcing legal bill review?
Outsourcing legal bill reviews can bring many benefits to your business. Take a look below at some of the ways it can help you free up time and save money.
Control your legal spend
Strengthen billing guidelines and ensure compliance
Save time
Free up staff
Standardize processes
Reduce costs
Structured reporting
Improve law firm relationships through consistent bill review
Enable better and more speedy business decisions
Significantly improve your program results
So now we've seen some of the ways that outsourcing can benefit your organization. Let's look at some of these topics in a little more detail.
Reduce costs
As is mostly the situation, the primary reason that outsourcing is looked on as an option is its ability to promote greater efficiency and significantly reduce costs.
For any corporate legal department, it will drive performance and also push back costs. The process of legal bill review is not a core activity for most organizations, but for those who make legal bill review its chief process, it will be able to standardize processes to be more efficient, labor-saving, consistent and most importantly, cost reducing.
"The process of legal bill review is not a core activity for most organizations,"
Structured Reporting
A legal bill review outsourcing partner will be able to efficiently analyze multiple legal bills and prepare specific reports. Such reports include legal spend analytics and law firm supplier metrics. Partners will also be able to report on performance and show any possible discrepancies between actual billing and agreed upon SLAs.
Standardized Processes
By offering a standardized process, companies who provide legal bill review are able to collate client input, while also checking every line of the invoice by implementing a due diligence process.
LBR outsourcing partners such as LSG will have the expertise to understand the legal process and are well equipped with a mix of legal staff that will serve your organization's needs, and have the skills and resources to ensure all of your incoming invoices are reviewed to maximize legal spend savings.
Reduces legal spend
The primary goal of the legal bill review process is to reduce unnecessary legal spend and also to help your organization manage legal budgets more carefully.
As an example, a recent insurance firm client of LSG saved $487 million dollars over just three years with our legal bill review outsourcing service.
And finally…
So it seems as if the way forward for busy corporate legal departments is to outsource legal bill review to an expert and dedicated LBR partner. This way, organizations can concentrate on growing and strengthening partnerships, whilst enabling their staff to concentrate on more important tasks than legal bill review. If you're looking to make your billing practices run seamlessly with your organization, why not get in touch and we'll be happy to help.