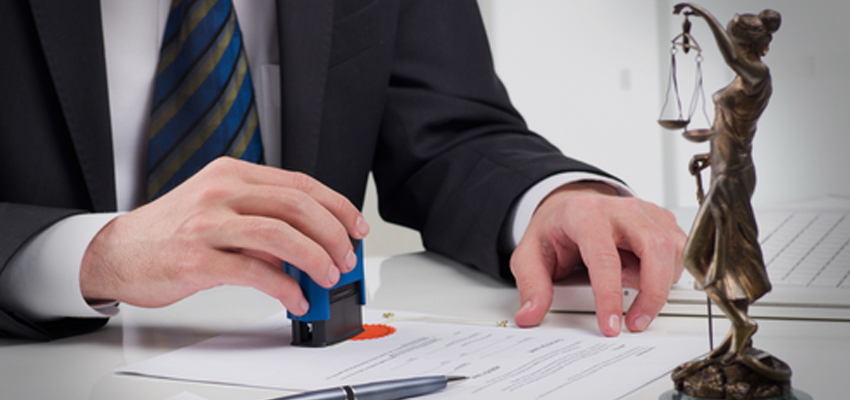 Enterprise Legal Management (ELM) Ecosystem
The legal technology landscape is very complex and every organization demands more from their senior management. Ever more accountability and transparency is expected and they are under immense pressure to deliver with the limited resources they possess. Data overload, loss ratio, data privacy, regulatory change, efficiency and high cost are some challenges they are facing in their day-to-day activities. Companies can implement point solutions to address these individual challenges and they succeed to a certain extent, but this often adds complexity and inefficiency in the end-to-end processes. Answers to complicated management questions can be difficult if data is distributed among multiple systems and it is always challenging to implement best practices in these constantly changing scenarios.
So how can these challenges be managed effectively?
An integrated solution is necessary, which manages and automates the legal, risk and compliance data and processes. Enterprise Legal Management (ELM) from LSG is built on the concept of 'Total Outcome Performance', which seeks to improve all procedures and workflows and inform users. This is embedded in our flagship product 'Advocator System® ELM.
Advocator System® ELM (Enterprise Legal Management) is a highly configurable Enterprise Legal Management technology platform that assists organizations to manage their legal, compliance and risk in an innovative, systematic way. It has configurable features that support improved litigation and legal spend management.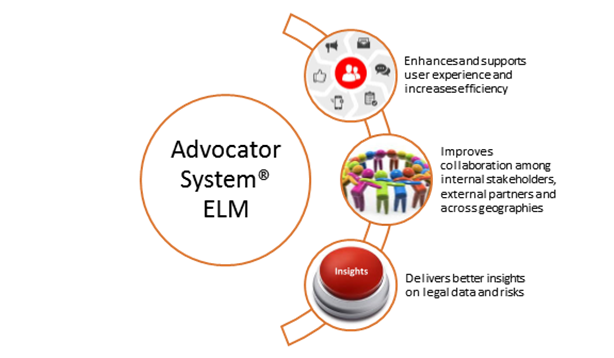 Using our product, insurers, claims professionals and TPAs can work more efficiently and manage cases more proactively, collaborate efficiently with panel law firms and gain more visibility into legal costs and risks. It helps corporate legal departments to collaborate and share knowledge among internal team members and with outside counsel. It also helps to drill down to detailed legal costs and make better sourcing decisions for legal work.
Benefits of using Advocator System® ELM: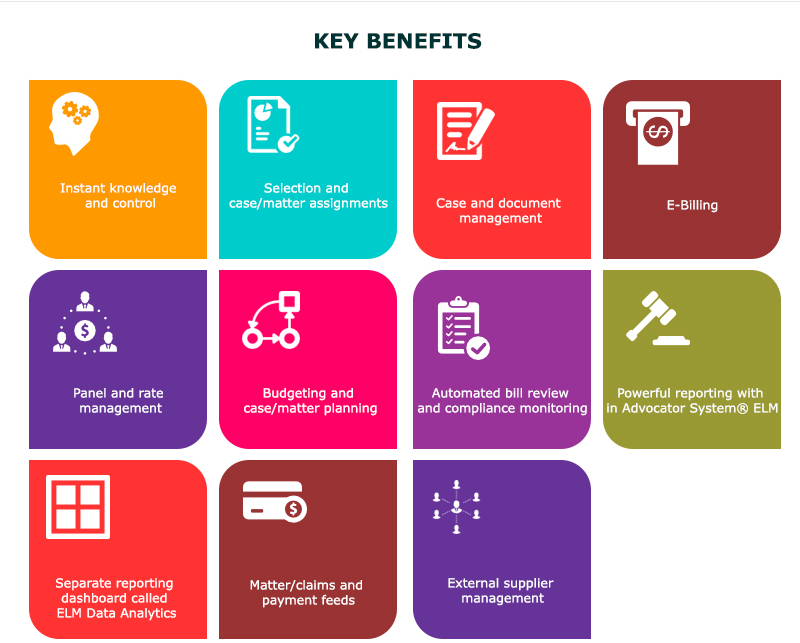 Schedule a Demo
A personalized demo with our legal bill review team is the best way to figure out whether LSG is the right LBR outsourcing partner for your organization. Contact us to set up a demonstration where we show you how we can help you achieve cost savings with LSG's legal bill review service.
If you want to talk to us, give us a call at +1 877 566 9574.
Request a Demo
Contact