5 Trends in Insurance Technology, Legal Technology and Legal Spend Management
Published by Matthew Markham on Jul 13, 2020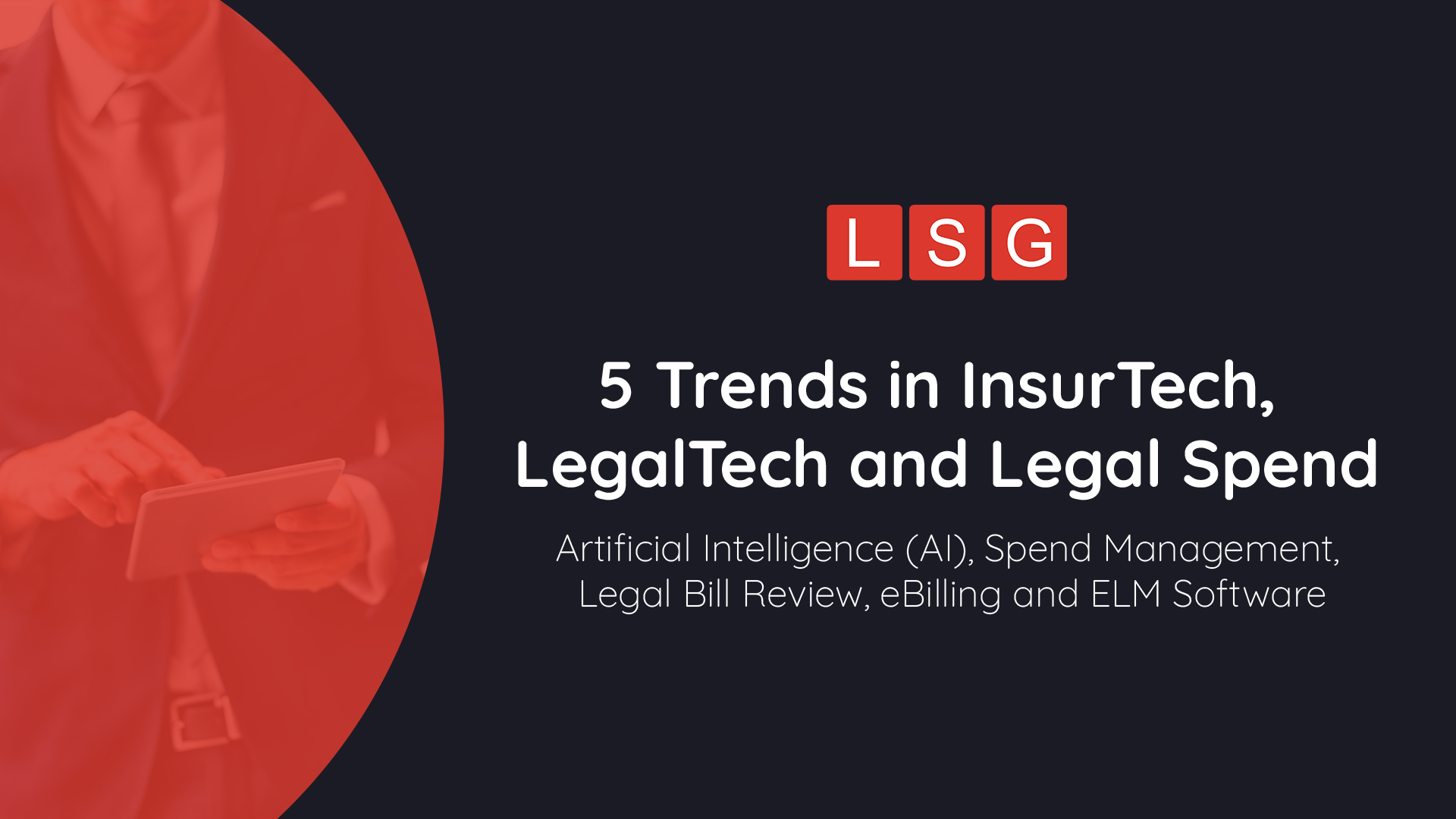 Legal teams and legal operations executives are in an increasingly demanding and complex environment, which drives new and better trends in legal technology.
The business of law is undergoing a seismic shift from being predominantly reactive, concentrating more on transactions to becoming more proactive, strategic, and advisory in order to compete at the cutting edge.
However, with headcount, technology, and expense management pressures, simply tweaking your existing operating model may not be sufficient to meet this new challenge.
Therefore, many in-house teams are investigating the benefit of technology transformation strategies, using the latest in technology, such as artificial intelligence or AI tools.
Let's take a brief look below at the short answer to how new technologies are transforming the legal and insurance industries.
What are the new trends in legal technology?
Artificial Intelligence (AI) and machine learning (ML) are set to be the main drivers of legal technology advancement. AI and ML are crucial in driving new innovations in legal spend management, matter management, legal bill review, and ELM software. These innovations will save time, manpower, eliminate non-compliant spend and also reduce human error.
Let's delve a little further into this topic and start by looking at how artificial intelligence is set to transform insurance firms, TPAs, enterprises and law firms.
Artificial Intelligence
According to many experts, in 2020 we are going to see artificial intelligence applications start to drive entirely new solutions for existing insurance, reporting & analytics, and legal problems.
Starting with the firms and in-house enterprise legal departments with access to large data sets, practicing lawyers and legal operations employees will start to understand how machine learning methods allow them to improve legal outcomes, mitigate risk and ensure an improved user experience for policyholders and/or stakeholders.
Machine Learning
Machine learning is one of the crucial elements responsible for the vast majority of the artificial intelligence advancements and applications you hear about in both daily life and also in many business applications.
Law firms are already using AI to more efficiently to:
Perform due diligence
Analyze contract terms
Conduct legal research
Record time (timekeeping) and eBilling
Interact with insurance software
Perform legal bill audit
But some in the industry expect the impact of AI to be much more transformational. It's predicted AI will eliminate most paralegal and legal research positions within the next decade.
"practicing lawyers will start to understand how machine learning methods allow them to improve the strategies used to satisfy client needs."
Legal Spend Management
Currently, the legal system relies on armies of paralegals and researchers to discover, index, and process legal spend and legal invoices.
Introducing, legal spend management and legal fee auditors.
For insurance companies, TPAs and enterprises at present, this reliance on in-house creation and assessment of billing guidelines and associated expense management can be expensive, driving up business costs and combined operating ratios.
Previous models for budgeting legal spending are being tested by increasingly unpredictable compliance, regulation, and governance-based business environment.
The question most wrestled with is, 'how can we do more with a similar or shrinking budget' while workloads increase and the role of in-house legal teams and claim adjusters are changing?
It appears that the benefits will outweigh any concerns as a recent Forbes article outlined:
"for just a fraction of the time and expense, AI could be used to conduct time-consuming research, reducing the burdens on courts and legal services and accelerating the judicial process."
This view not only applies to law firms, but also to insurers and enterprises looking to improve their legal spend outcomes and related KPIs, such as average litigation days.
Legal Bill Review
Using machine learning with legal billing substantially reduces the time and cost required for legal fee auditing for enterprises, law firms and insurers/TPAs. With ML, firms can employ a vendor's algorithm to automatically check line items against a library of guideline non-compliance (GNC) codes, followed by brief human review, a hybrid approach that takes less than half the time. Therefore, the same size team can handle more than twice the load, or more than half the team previously reviewing invoices can be reallocated to higher value add tasks in the mid-and-front-office.
Making sure that invoices are accurate, and deciding whether the time and expenses billed is within normal parameters or excessive, used to take many hours of partner and in-house counsel time. The guidelines had to be manually combed, an expense report manually compiled, but no more.
With ML and AI, these tasks become easy and quick. More so when a pureplay software and attorney team the process with a hybrid approach, optimizing for results, speed and accuracy.
An in-house legal team can now easily address billing issues before they become a point of contention with a panel law firm.
Moreover, these systems can help a firm increase the efficiency of its own time management.
This is because machine learning and AI systems work in real-time. So lawyers and other timekeepers can be notified if they are spending too much time on a task, and the client is not likely to pay for extra work.
eBilling
One of the chief benefits of E-billing is that it optimizes the invoice process and in turn builds better client relationships.
eBilling software is becoming even more sophisticated. The key for law firms is to identify the processes and tools to help manage the invoicing progression after submission. Look for the eBilling legal software that lets you do your billing guideline checks in advance of sending it to the client.
Firms must be able to see all of their eBills for all clients in one place and be able to easily establish the reason for any invoice rejection and act quickly to sort this issue.
Ideally, firms need to capture this knowledge to avoid any further problems for the next invoice.
More importantly, the firm needs to ensure that the Billing is taken care of effectively to enable lawyers to stay focused on solving legal problems for clients, rather than spending their own time and the company's money by chasing invoices.
"One of the chief benefits of E-billing is that it optimizes the invoice process and in turn, builds better client relationships."
Enterprise Legal Management Software (ELM software)
With the pace of change underway in the legal industry, particularly in corporate legal departments and legal operations, ELM is needed to help manage the ever-increasing mountain of service requests and other matters, while optimizing efficiency, cutting costs and reducing crucial errors. It's a form of expense management software that incorporates a lot of other helpful tools and features to operate your firm, from budgeting to document management to calendaring and general claims management data & reporting.
ELM empowers you to automate nearly any repetitive manual process, so you can focus on what's important: doing the work, not wrestling with workflows. Innovative ELM platforms organize and manage all of your cases in one comprehensive platform. They tend to incorporate team management, notifications and communication tools that encourage KPI improvement.
Right through time tracking and scheduling appointments to managing files and also offering unlimited document storage.
Where can I find the latest technology for my law firm?
Here at LGS.com, our legal bill review (LBR) services play a vital role in enterprise legal management through the review and analysis of law firm invoices while also achieving significant legal spend savings.
We offer end-to-end legal management software that offers seamless integrations designed to flexibly meet your specific needs and most importantly will save you money.
Our enterprise legal management software can be plugged directly into your existing accounts payable, payments, and other important existing IT infrastructure that help you manage business expenses.
By bringing together people, processes, and information across your whole company, using new technologies such as AI, you can be empowered to focus on delivering innovation and excellence.
And finally…
So as experts continue to predict how technology in insurance and law is set to be a trend for the future, let's finish on a quote by Chris Cartrett, Executive Vice President of Aderant.
"Law firms will respond to client pressure for greater transparency into their legal matters. This will drive better collaboration that grows to include legal budgets, matter plans, and decision making. Law firms that adopt sooner will enjoy a first-mover advantage that yields stronger client relationships and a greater share of client work. The renewed focus on client collaboration will usher in greater acceptance and adoption of secure cloud tools for critical law firm and enterprise grade client systems."