Growing relevance of Legal billing software
Published by Vipin Louka on Dec 18, 2016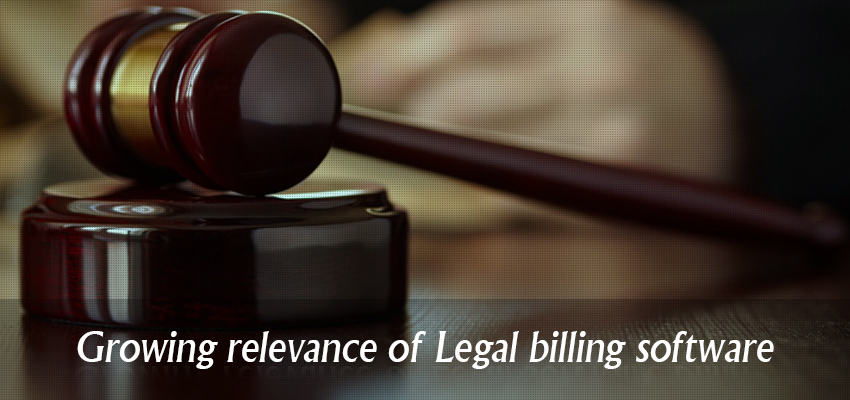 In today's age of globalization where a majority of firms are looking into international expansion by implementing multiple strategies internally, the legal industry can be resistant to change and adopts new approaches hesitantly. But recent studies show that law firms are also starting to follow the route taken by other industries.
For an effective transition that brings the best results for any law firm there are numerous changes to which law firms are required to respond, be it in the domestic or the international arenas. The greatest challenge in this aspect is the pace and multi-dimensional nature of change in the ever-expanding global legal market.
How can a firm successfully tackle the challenges? In order to get a clear understanding of this, we need to look into the main challenges any legal firm faces while functioning and also their solutions. It should be specially noted that these challenges directly or indirectly highlight the need for proper legal billing software.
1) Mobility - Law firm personnel spend a lot of time in mediation sessions, settlement conferences and, of course, courtrooms. Not only should all case details be at their fingertips but they also need to be able to record time and expenses straightaway, rather trying to remember all the details at the end of the working day.
Solution – Cloud-based law office software provides secure access to the firms' legal billing systems from anywhere, via an internet connection. Billable hours and expenses can be added as they are incurred and, as a result, billing becomes accurate.
2) Fee disputes - Clients might engage in fee disputes in cases when they may consider charging is not fair or appropriate. Such clients are prone to file billing disputes sometimes years down the road which may result in a waste of time and money for the law firm.
Solution - A comprehensive audit trail which is easy to create, using time and legal billing software, is the best defense against fee disputes. The law firm needs to have an itemized and chronological log of all activities. Again, cloud-based solutions that store data on remote, secure, professionally managed servers are the best way to keep data safe for future reference in case of a fee dispute.
3) Retainer handling - Many law firms demand advance retainers in order to avoid non-payment at the end of case-handling. This amount can be spent only after the firm earns it through documented fees. Tracking every cent of retainer funds across a number of cases can be a wearisome task if performed manually.
Solution - Again, the solution is a legal billing system with integrated trust management functions so that advance retainers can be tracked easily. The system should also be able to send low-retainer reminders on time so as to inform the client to replenish their account.
4) Collections - Collections may reduce as the accounts age and law firm personnel have to be vigilant and stay on top the invoicing.
Solution – A Legal billing software solution that gives an immediate and complete understanding of the law firm's finances about what has not been billed and what has not been paid. The system should be able to generate e-mailing of invoices and reminders of payment.
5) Billing models - Traditionally, law firms bill by the hour, but many firms are moving away from the hourly billing system when required by their clients. In this case the law firm has to be always aware about the actual expenses, so as to be sure the fees are neither too high nor too low, which requires lot of paperwork. This is difficult to handle manually.
Solution - Depending on what kind of billing model the law firm wants to follow, different software solutions are available. With the help of the appropriate software the firm can track unbilled hours and expenses so as to be able to evaluate the fee structure and ensure it is fair.
In today's legal industry, manual billing is time-intensive, which means loss of income. For example, taking instructions and typing a legal document manually may take an average of 80 minutes, while an automated solution could do the same in half the time. According to a study by Legal Futures in 2011, by manually producing 3 documents a week, a law firm would be wasting $1350 a month in lost billable time. In short, by using automated solutions to streamline workflow management, legal research, document production, tracking billable time, client cost ledger and document management, law firms can save a lot of time and thus improve profitability. According to the 10th edition of the Annual ACC-Serengeti Survey of ACC members, on average, law firms had savings of more than 22% in annual outside legal spending due to improved legal bill review and 26% from budget tracking.
The benefits of E-billing to the legal industry, when compared to the traditional law firm billing system are obvious and sound. Without appropriate legal billing software, law firm personnel have to review piles of bills and manually re-enter billing data into spreadsheets in order to run even basic reports, which is a waste of precious time. Now, thanks to E-billing systems, law firms will receive their bills electronically, through a single interface which also allows it to route, review and approve the bills. This enables law firms to easily ensure compliance with their clients' guidelines, create valuable data that can be mined for internal use, expedite dispute resolution in case of an issue and ultimately accelerate payment cycles, thus increasing profitability.
It would be noteworthy in this context to mention LSG's Enterprise Legal Management Platform - Advocator System®, which is applicable to both claims and corporate legal document management, and is highly configurable towards the client current operating models.
Some of the key benefits of Advocator System® are-
Instant knowledge and control
Selection and case assignments
Panel and rate management
Budgeting and case planning
Case and document management
E-billing
Automated bill review and compliance monitoring
Powerful reporting within Advocator System® ELM
Separate reporting dashboard called data analytics
Claims and payment feeds
External supplier management
Contact us for more information.