Market Guide for Matter Management Software
Published by Matthew Markham on Jul 20, 2020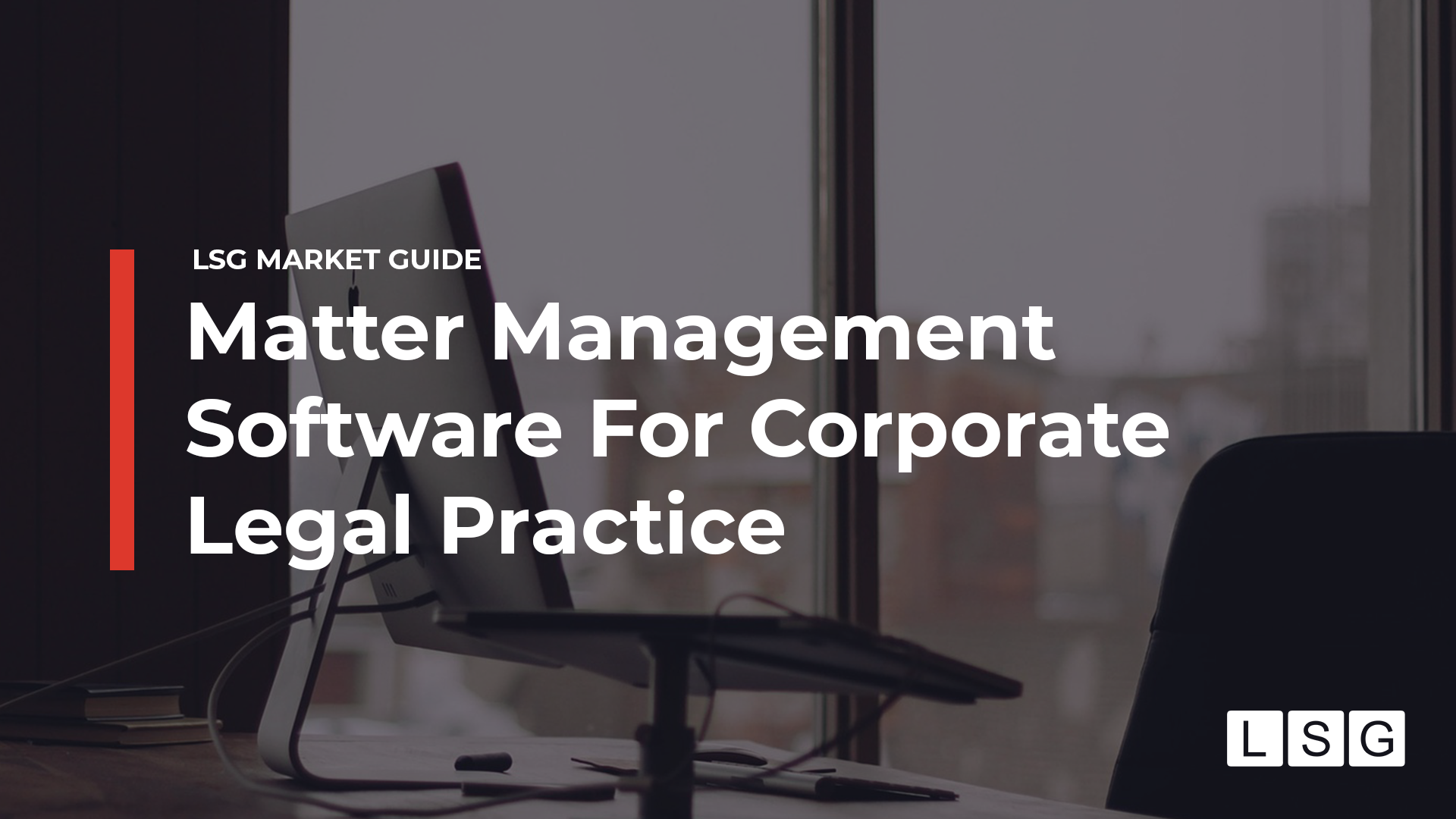 What is matter management software?
Matter management software is used to properly manage all activities surrounding corporate legal practice. It can support all corporate legal matter types, including disputes and litigation, contracts and transactions, intellectual property, claims, legal research, M&A, and compliance, amongst other things.
Matter management software will gather, track, assign, and report on these legal matters, enabling an organization to more effectively engage with and report on its legal work and costs. This software can be a key category of general insurance software required to optimize vendor management, document management and overall claims and matter data.
Why does matter management software matter?
Two of the most consequential results of improper matter management are 1) lack of standardized processes, which can impact everything in the matter management process, and 2) inefficient management of outside counsel, resulting in improper expenses. A lack of standardization in a system's processes can lead to missed deadlines, missing documents, and lack of predictability and control over legal spend.
When situations that require an outside counsel are inefficiently managed (usually through manual means), the company may realize a decrease in in-house productivity alongside an increase in billable hours from the outsourcing. It is imperative for legal teams to ensure that they are efficiently and effectively managing their legal matters to avoid these costs.
What are some matter management software options?
Mercury ELM LSG's Mercury Enterprise Legal Management Software (ELM software) functions as an end-to-end matter management software. Using the latest machine learning capabilities, Mercury ELM is designed to offer an interface for user experience that saves cost through automated bill review and compliance monitoring. It allows for the seamless interaction between clients and outside counsel, as well as the sharing of information amongst teams.
The software's "digital handshakes" take out emails, document attachments and other manual processes, replacing them with in-app interactivity and operability solutions that give users instant knowledge and control. In addition to replacing outdated tasks, the Mercury enterprise legal management software tracks and corrects excessive legal spend through automated bill review.
Mitratech: Miratech features two prominent matter management software programs: TeamConnect, an end to end ELM platform for managing core legal processes and operations, and TAP, which allows users to automate repetitive manual processes. The implementation of these programs seeks to standardize the legal processes so users can more efficiently manage matters handled by staff and outside counsel. The software offers visibility and control over the entire matter lifecycle through a single platform approach.
Rocket Matter: Rocket Matterr's Bill-as-you-Work feature allows users to create bills and invite clients to pay online as they go, and integrates LEDES as well. Document assembly and customizable Matter Templates and workflows are also featured on this platform, and are accessible from all devices. Recurring billing options allow users to "set and forget", while at a glance reporting helps users to compile insights to their most profitable clients, matters, and associates.
BusyLamp: BusyLamp's matter management software - Matter.Space - offers strategic reporting on a single dashboard that can be tailored to the individual, and offers the same interface experience for law firms and their corporate counterparts. The reports can be scheduled and delivered at chosen intervals or created using the "reporting wizard." Matter.Space integrates with Microsoft and other tools, while also meeting security standards. This matter management software has intelligence full-text search and out-of-box matter management that uses best practices and common workflows - but can still be customized.
Thomson Reuters: Central from Thomson Reuters offers a single, centralized interface with functional security from which clients can manage tasks, deadlines, client files, and documents from anywhere - their desktop, laptop, tablet, or smartphone.
Matter management on this central platform seeks to streamline client intake, filing and storage of documents, and also houses global search capabilities. The front facing client portal allows users to communicate with and track the progress of clients, and the back end matter management allows for the assigning of tasks to the team, calendar management, and firm-wide conflict checks.