LegalTech Innovations within the Legal Bill Review Industry
Published by Matthew Markham on Apr 09, 2020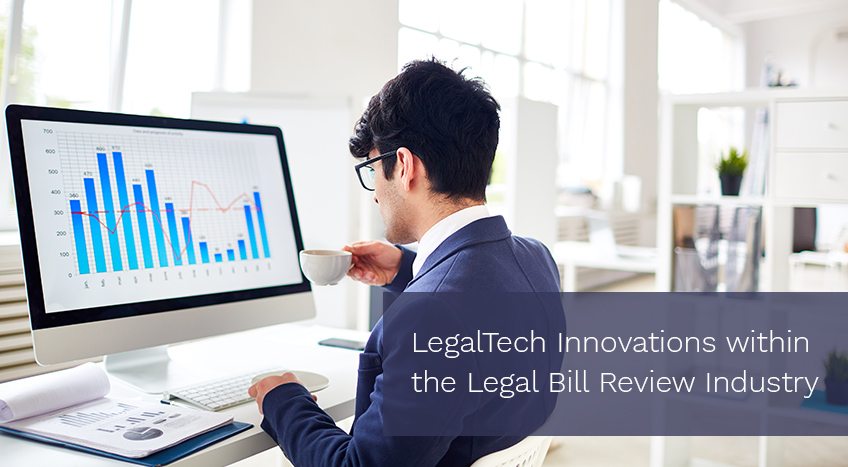 Legal bill review plays an important role in cost containment, determining the efficiency of your law firm panel and whether or not they adhere to best practices. In an industry of subtle overbilling, it helps to drive down legal spend and initiate cost savings wherever possible, especially so with the added pressure of recent economic turbulence.
Most law firms today use some kind of e-billing software platform. This technology facilitates automated bill review and submission in some cases, but not all. According to Law Technology Today, billing is one of the most time consuming and important tasks for attorneys, who deal with many other pressing matters in their day-to-day. Though there are many time tracking and billing systems available, they fail to address accurate legal billing. Technologically automated bill review applications, assisted by artificial intelligence, can be a mitigating countermeasure to these obstacles.
In this article we will provide an overview of 3 of the most relevant technology solutions available for companies to improve legal billing best practices.
Artificial Intelligence and Data Analytics

Artificial Intelligence (AI) is a cognitive technology that "learns" how to do repetitive tasks and then gets better at those tasks; it's somewhat like a constantly improving "if-then" excel function. More simply, AI and its derivative Machine Learning (ML) can use algorithms to get better at noticing patterns. For example, in claims management software AI can be used to predict UTBMS billing codes to ensure 100% billing compliance.

Areas where AI-based technology can improve legal bill review:

Due diligence and research (identification of prior approval)
Reduces cost and increases productivity of manual reviewers
Saves time and track billable hours (identification of rate or quantity errors)
Crosscheck invoices (identification of duplication errors)
Claims cost prediction (outcome prediction based on similar cases)

Now in case of the legal bill review process, a combination of human experts and AI can help to cut cost by increasing profit. At LSG, we utilize AI-based technology to ensure compliance with case budgets and milestones in our case management system and legal bill review process.

Blockchain Technology

A blockchain is a variant of Distributor Ledger Technology (DLT), or digital account keeping systems, which allow data to be stored globally through thousands of servers without giving anyone sole proprietorship. According to ConsenSys, a well-known blockchain company, blockchain simplifies transactional work, digitally signs documents and immutably stores legal agreements. In the case of legal bill review, immutable records of case history and invoice outcomes can ensure integrity of data.

Further advantages of blockchain:

Transparency in your bill review data
Increased security of data
Fraud identification and mitigation
Potential synergy with AI via smart contracts

Legal Chatbots

As lawyers, clients are your profit. Technological advancements like chatbots are a user-friendly tool to allow your clients to converse with AI bots. It may help clear legal questions in advance of litigation, and it can greatly reduce time spent answering recurring questions. These bots, whether AI or human controlled, in the very least will give your clients access to immediate help and better serve their legal needs.
Conclusion
In sum, there are multiple tools to help reduce the costs associated with legal billing disputes, from legal billing software for lawyers to technology-enabled legal bill review services for corporates, insurance companies and Third Party Administrators (TPAs).
If any areas strike a note with you or your company, schedule a chat with one of our legal technology experts via phone, email (info@lsg.com) or live chat.