4 Trends in Matter Management Software
Published by GaryMatthew S. Markham on Oct 09, 2020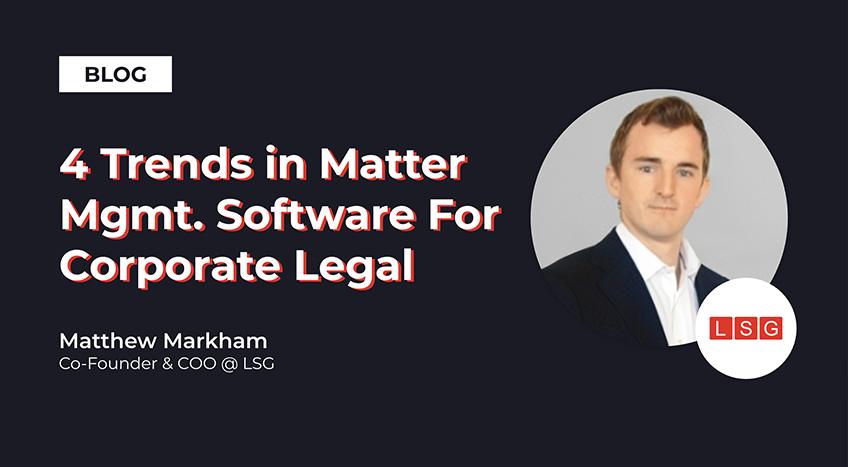 Insurance firms and enterprises across the world are recognizing how increasingly difficult it has become to manage the work surrounding thousands of new legal matters every year, which is why they're turning to matter management software. This time- and sanity-saving resource does more than just control a legal matter's entire life cycle, it gives legal teams a single solution that manages the different protocols of opening legal matters, managing workflow and generating report. Simply stated, matter management software handles all activities that an in-house legal department may encounter. And, as this new type of software has quickly gained prominence, there are quite a few trends to which firms should pay attention.
Creating a Centralized Hub in Matter Management Software
One of the biggest trends in matter management software is the desire for a central location — a hub where everything that surrounds legal matters can be found quickly and easily. By establishing a single hub, an in-house legal department's workflow is automatically streamlined. There are no filing cabinets to sift through, no servers with different accessibility filters for different people, and no searching through old emails. Instead, matter management software with a centralized hub ensures a wholly accurate database is easily accessible by all team members. While a smart functionality like this should come standard on any matter management software, it doesn't, so be sure you read the fine print.
Reduce Time, Save Money
Another feature the legal world is demanding in their matter management software is the ability to reduce the time spent opening new matters. Smartly designed software can quickly manage this process through the use of templates and standardized processes, cutting the time it takes to open a new matter by as much as 75 percent. What's more, by automating the process of opening matters, as well as just using the centralized hub to better manage their overall costs and workloads, legal practices can save money by enabling their staff to focus on more important, value-add tasks.
Seamless Email and Calendar Integration
The world operates on synchronized email and calendar programs. Considering this reality is especially true of in-house legal departments, it's no wonder that they are increasingly seeking out matter management software that perfectly integrates with their email and calendars. Especially popular is two-way integration — a feature that enables you perform an action in your email, calendar or within the software that would normally be done in a different manner (i.e., generate a matter in your email). Unfortunately, this sought-after feature isn't available in all matter management, so you'll want to make sure you do your research before settling on new software.
Greater Savings with Matter Management Software
It's safe to say that matter management software is gaining in popularity for a good reason, the average ROI for this software is 7-8x, and we typically see 10-12x. As more and more hit the market, we're going to continue to see new trends that make certain software more desirable than others. For now, if you're looking for the software that has people talking, look for something that gives you a centralized hub, that reduces the amount of time spent creating matters (and therefore saving you money), and that can seamlessly integrate with your email and calendar programs (especially software with two-way integration). For additional savings, implement a legal bill review program that ties in with your ELM software program.