What does legal bill review cost?
Published by Joakim Hjønnevåg on Jul 28, 2020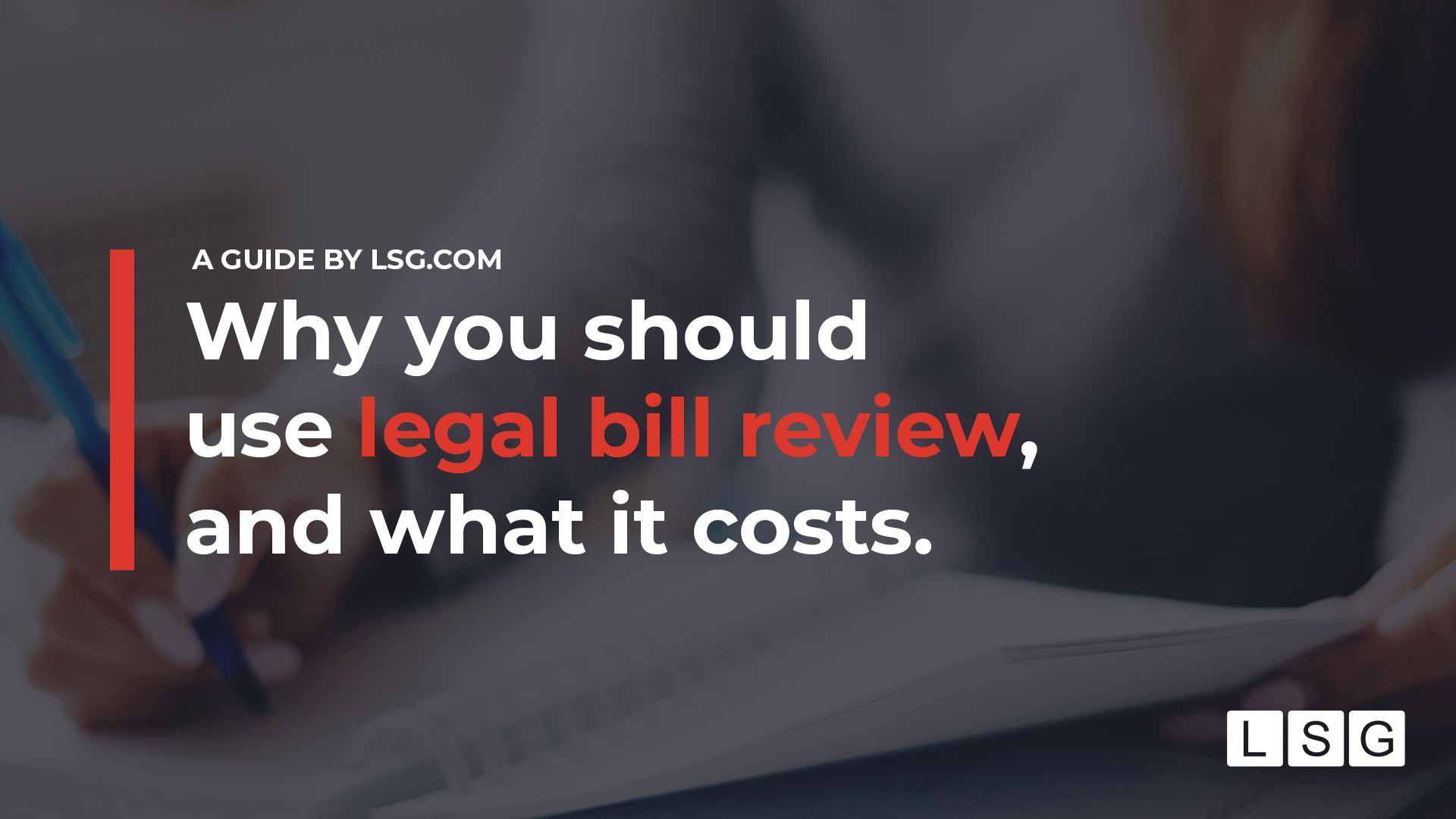 Before delving into how legal invoice review is priced, let's first take a look at what legal auditing services actually are. Enterprises across the world, spanning all industries, are spending large amounts of time and money on outside counsel legal services. Often times, they're spending more than they should on attorney fees, but not necessarily through any fault of their own.
It's common for law firms billing hourly rates to send incorrect invoices, resulting in overbilling of ~6-11% through errors such as block billing, duplicate work, inadequate descriptions and other non-compliance to the billing guidelines set forth in your service level agreements.
This is preventable, however. Implementing a legal spend management strategy focused around bill auditing can help save significant amounts on legal costs.
Reducing spend with legal bill review
As a general best practice, you should analyze and deploy fee auditing of all incoming invoices from your law firm vendors. This essentially means reviewing invoice line items for billing guideline compliance, adjusting or removing non-compliant billing and thereby reducing overall legal spend. If you don't already have robust billing guidelines, it's important that you look over them and add more rules to ensure clean, compliant billing from your law firm vendors.
Some enterprises choose to do legal bill review and audit with an in-house review team, which certainly works, but this racks up large amounts of spend on staffing. As an alternative, consider outsourcing to a legal fee auditor who provides in-depth reports on the audited legal invoices.
Outsourcing legal bill review to a provider such as LSG can be extremely cost-effective. Instead of requiring any in-house staff, everything can be handled by the legal fee auditor, from review and adjustment, to vendor communication and dispute resolution In addition, you will get in-depth analytics that delve into your overall vendor spend, performance, billing compliance and beyond, helping you make decisions on the vendors you work with.
The cost of legal bill review services
Outsourced legal bill auditing services price themselves differently based on total legal spend, but generally range from 1.5% to 2.5% of spend for most customers. We think this is too high. If savings of 6% are achieved, you could end up losing a lot of ROI in legal bill review vendor spend. See below for a competitor comparison table highlighting the differences between some of the other players in the legal bill audit market and LSG.
| | | | | |
| --- | --- | --- | --- | --- |
| | | | | |
| Free 24/7 support | Yes | No | No | Yes |
| Artifical intelligence | Yes | Yes | No | Yes |
| Advanced analytics | Yes | Yes | Yes | Yes |
| Transparent pricing | Yes | No | No | No |
| Pricing structure | % of spend, less than competitors | % of spend, e.g. 1.5-2.5% | % of spend, e.g. 1.5-2.5% | % of spend, e.g. 1.5-2.5% |
| Savings guarantee | If no net savings, LSG's fee is waived | No | Yes | No |
Our pricing is based on a percentage of spend (for annualized programs), decreasing based on your total legal spend. Inquire for custom pricing if your legal spend is over $75M per annum.
Why work with LSG for legal bill review?
Our legal bill review services have saved clients such as Coca-Cola, AT&T and IBM meaningful revenues. As an example of previous savings, we helped a top 10 global insurance company reduce their legal spend by $522 million dollars over just a 3 year period.
Simply put, we provide a better service at lower cost than our competitors. Below you can see a case study of how we helped a previous client of a competitor reduce their legal spend by an additional 2.9% more what the previous vendor achieved.
We believe you could see similar results, so request a demo to learn how.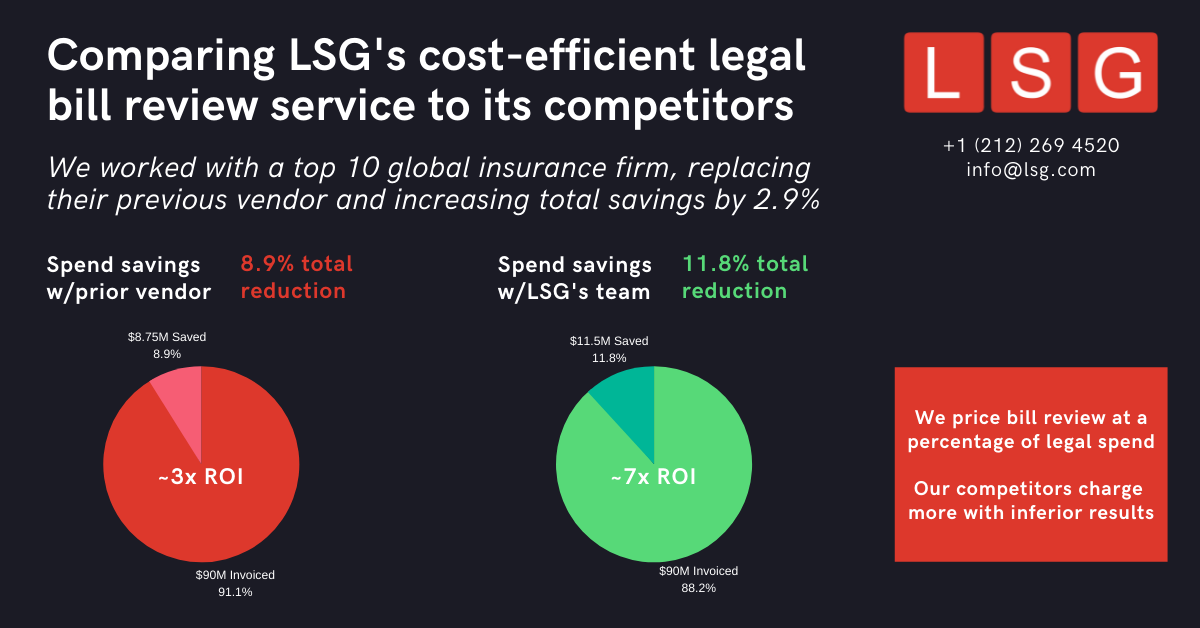 Request a free proof of concept
Email us at info@lsg.com, or call us at +1 (212) 269 4520. Alternatively, request a demo directly on our site by clicking HERE